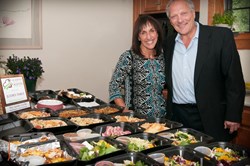 "Families don't leave the hospice center, and it helps them feel better to be able to come over and have a nice meal and talk to others while they are here," says Judy Putnam, Patient Care Manager, St.Luke's Hospice.
Bethlehem, PA (PRWEB) December 30, 2013
Every Thursday afternoon, staff and family members of St. Luke's Hospice in Saucon Valley have been graciously treated to an array of the finest cuisine from leading Lehigh Valley eateries including Apollo Grille, Emeril's Chop Hose, and Shula's.
Each participating restaurant, on behalf of Judie's Table of the Judith Adele Agentis Charitable Foundation (JAACF), donates and delivers with quiet honor, a lavish spread of appetizers, entrees, salads, and desserts for 30 people.
Recently, Dyanne Holt, co-owner of Apollo, served with great aplomb, a generous spread of menu items, including Apollo Waldorf, Brie and Pear and Tricolore Salads, Beef Tips with Udon Noodles, Sesame Crusted Tuna Sashimi, plus a bounty of signature salads, sides and delectable desserts.
The non-profit -foundation, created in honor of the late Judith Adele Agentis, was founded by Bob Agentis, the husband of Judith for 47 years.
The Foundation was formally created May 2013, however, Bob has been delivering meals every Thursday since the last week of January, and the growing list of restaurants eager to assist with donations, continues to grow.
"This is a great charitable foundation with a good cause, and recognizing the need that family members here at hospice need to nourish the whole body and soul, and that having very good food here is one way to help them do that," says Dyanne Holt, co-owner of the Apollo Grill. who has experienced two of her own family members in hospice. "Hospice is important; they help make you ready and help make your loved one comfortable," observes Holt.
Says patient care manager, Judy Putnam, "Families don't leave the hospice center, and the work of this foundation helps them feel better to be able to come over and have a nice meal and talk to others while they are here."
The growing list of area restaurants partnering with the JAACF include: The Apollo Grill, The Bechtolts Orchard, Bonefish Grill, Brick Tavern Inn, Blue, Braveheart Tavern, Emeril's Chop House, Hanoverville Road House, Mesa Modern Mexican; MELT, Shula's Steak House, Pacifico, Tapas on Main Street, The Bethlehem Dairy Store, Billy's Downtown Diner, The Borderline, Mario's Pizza, Martellucci's Pizza, The Mint, Prime Steakhouse, Sugarbabe Cupcakes, Sal's Brick Oven Pizza, Soto Santi, Starter's Pub, The Villa, Yianni's Taverna.
JAACF is a charitable foundation established to provide meals to hospice centers and to provide testing, early detection, awareness and education about Pancreatic and Liver and Colon Cancers.
The JAACF is creating an endowment that will provide a source of funding, and hope, for those in need of early diagnostic cancer screening such as CT Scans, MRI's, Colonoscopies, and X-rays for early detection for unscripted and uninsured. The foundation also provide future funding source for promising pancreatic, liver, colon and cancer research. For more information about the Judith Adele Agentis Charitable Foundation, visit http://www.JAACF.org.