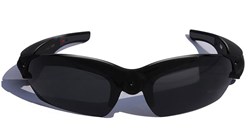 This is not like any other camera sunglasses, and I bet there is none to beat the features of Panvu.
(PRWEB) December 25, 2013
Panvu's innovative method to capture dual photos at different angles enables even amateur users to create professional panoramic photos in no time. While other companies offer single point of view cameras, Panvu has three 15 megapixel cameras that capture dual 180 degree panoramic photos and full HD 1080p videos at 30fps. The camera's ability to take pictures and shoot videos at the same time is a big advantage over its competitors.
Perfecting the technology for more than a year, the company has entered the presale phase offering discounts on a first come first served basis. "We are really excited to see the results. Through this presale, we expect to get more feedback from the market and to raise funds for our large scale production process."
Panvu has scheduled its release by mid next year to all customers who have pre-ordered the glasses. The Panvu app will be available at iTunes and Google Play Stores by May 2014.
About Panvu 3D
Panvu3D is the world's first 15 Megapixel triple camera sunglasses that simplifies 180 degree panoramic photography and instant 3D Generation. Powered by a 400mAh rechargeable Li-ion battery and 8GB internal memory, the company assures 60 minutes of continuous power supply for both photos and videos. Seamless photo transformation is possible using the cameras built in Bluetooth 3.0 connectivity.
Panvu's Pro Edition glasses offer a huge 32 GB storage space with an unmatched 1100mAh battery backup. The interchangeable polarized anaglyphic 3d lens which comes along with the kit makes it possible to view 3D photos & prints, magazines or even 3d movies.
Designed to suit every individual, Panuv offers the glasses in four variants: Standard (8GB), Extended (16GB), Power (1100mAh) and Pro (32GB, 1100mAh and 5 Color Lenses) which can be preordered at the company's campaign page
For more information, please visit http://igg.me/at/panvu3d
For queries regarding Panvu 3D, please contact using the following means of communication:
Maggie
maggie(at)panvu3d(dot)com
+91 74011 27236