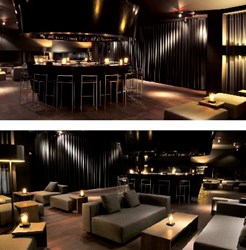 DWill's Grill and Lounge combines the elegance and class of a gourmet restaurant, with the ease and connectivity of a sports bar—but with a flavor that's all its own.
Raleigh-Durham, NC (PRWEB) December 30, 2013
Raleigh-Durham's booming RTP Business Park is about to get a much-needed watering hole that reinvents what it means to "get together" after a long day at the office. Early this year, business professionals in North Carolina will be introduced to a new kind of dining and socializing environment that calls to attention the importance of good atmosphere and conversation. DWill's Grill and Lounge combines the elegance and class of a gourmet restaurant, with the ease and connectivity of a sports bar—but with a flavor that's all its own. Centering on the need for a refined after work establishment, DWill's will be catering to professionals from RTP as well as the surrounding Raleigh-Durham area who want to relax with their colleagues in comfort and style.
While there is a scattering of restaurants and bars already in the area, DWill's promises to set a new lounge standard, as an establishment with a propensity for community, in addition to fine cocktails and dining. Owners and entrepreneurs Will Knight and Derek Hicks were called to action through their vision for a more collective and enjoyable after work experience, and after an extended design process they have created an establishment that stands apart from the rest. With a floor space designed for optimum relaxation and social interaction, DWill's has a variety of lounge options for any visit. While the interior boasts an impressive mix of taste and style as indicated by the modern décor, luxury is in full supply with quality couches and ottomans providing guest with exceptional comfort.
Along with the open floor seating, DWill's has an impressive extended bar that caters to any and all tastes. With a drink menu that includes everything from top shelf liquor and cocktails to craft beers and fine wine, individuals can find exactly what they are looking for each and every time. Along with the fantastic variety of libations, the full menu includes a mix of continental classics with a brilliant array of delicious fusion dishes, all prepared and served with nothing but the freshest ingredients. Whether the occasion is drinks, appetizers or a full meal, DWill's sociable staff is ready to provide the highest quality of service to ensure satisfaction again and again.
While DWill's is officially opening in March of next year, there is still time for patrons to contribute in the final stages of its development. DWill's prides itself on its commitment to the professional community in North Carolina, and is designed to provide businessmen and women with a space catered to their social tastes. Individuals working in RTP and surrounding areas in Raleigh-Durham now have the opportunity to help fund and be a part of the final stage of development by contributing to DWill's Kickstarter campaign. This effort will ensure that DWill's Grill and Lounge is ready for its eager patrons in the next year.
To support the DWill's Kickstarter campaign please go to:
http://www.kickstarter.com/projects/481814046/dwills-grill-and-lounge
For other press inquiries or more information please reach out via Email.