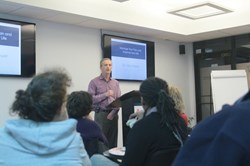 The mission of Hands-On Physical Therapy is to furnish their clients with reliable Physical Therapy services, improve their health toward independence and help them change their lives in a more positive direction.
Astoria, NY (PRWEB) December 24, 2013
On December 18th, Dr. Yakov Perper of Astoria Pain Management was a Guest Speaker at Hands-On Physical Therapy's bi-monthly Wine & Cheese "Help You Help Yourself" Seminar, where he spoke about Interventional Pain Management, and what people can do to overcome their pain and regain control of their lives.
Dr. Perper is the inventor of a unique chair for doing injections into the neck, thoracic spine and lumber spine in the sitting position. His patented invention has the advantage of doing procedures safer and more convenient for the patient.
Dr. Kostas Rizopoulos, Co-Founder of Hands-On Physical Therapy of NY, discussed the role of perpetuating factors in everyday pain. Dr. Rizopoulos is a world-renowned leading expert in Myofascial Pain and has extensive experience in the area of Manual Therapy, particularly in Myofascial and Trigger Point Therapies, Neuromobilization, Strain and Counterstrain, and Muscle Energy technique approaches. He is a Master Practitioner of Neurolonguistic Programming and specializes in consulting with individuals and businesses to identify and unleash their true potentials.
Attendees found the discussions very informative and asked many questions about themselves and loved ones to alleviate their everyday pain in order to live a healthier pain-free lifestyle.
The next HYHY Seminar will be scheduled for sometime in mid-February 2014.