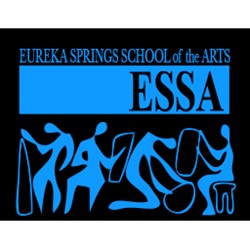 ESSA's 2014 Program Catalog to be released mid-January!
Eureka Springs, AR (PRWEB) December 24, 2013
Get the New Year on track by experiencing the pizzazz of a workshop at the Eureka Springs School of the Arts. By mid-January ESSA's gorgeous new 2014 Program Catalog will be in the mail and on the web at http://www.essa-art.org.
To add to the excitement, Eureka's brand new Blacksmithing/Metal Fabrication Studio will be making its debut this May with workshops by Jim Wallace (Blacksmithing); Wayne Summerhill (Metal Sculpture); Bob Patrick (Forged Steel); and Kirk Sullens of Bass Pro fame (Building Hollow Form Animal Heads). This is just the beginning of a fantastic year of workshops at ESSA.
Favorites such as Judy Lee Carpenter and Lyla Allison will be returning to teach in ESSA's Metalsmith Studio. Also, Master Metalsmith Robert Ebendorf will be doing an exclusive workshop on "Lost and Found Objects for Personal Adornment" to celebrate the May Festival of the Arts in Eureka. Doug Stowe, Steve Palmer, and Les Brandt will share their extensive knowledge on woodworking and "the wisdom of the hands." Popular two-dimensional instructors Richard Stephens, Mary Springer, Valerie Damon, Tom Christopher, Jan Brieschke and Annie Tagg return to "wow" their students with new techniques and skills.
In addition, several new instructors will be coming to ESSA. Among the new instructors are Mike Maple (photography), Barbara Kennedy (two-dimensional and fiber art), Lisa Kerpoe (fiber art) and Mary Hettmansperger (woven fiber and metal) to name a few. And all up and coming artists will want to register for Ree Gallagher's "Marketing Your Art Work" workshop on May 22nd to learn to maximize their success as an artist.
Call ESSA at (479)-253-5384 or visit http://www.essa-art.org after Jan. 6 for more info on these events.
---
About the Company:
Eureka Springs School of the Arts is a non-profit organization bringing art education to Northwest Arkansas. Eureka Springs School of the Arts provides art classes, workshops and team building events to companies and individuals of all ages. Eureka Springs School of the Arts brings people with mixed backgrounds, ages and nationalities together to work with their hands in a supporting and encouraging way, welcoming all regardless of their talents, skills and interests. They create a lasting memory, in a unique environment of beauty and creativity. For more information, visit their website at http://www.essa-art.org/.