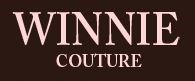 Dallas-Frisco, TX (PRWEB) December 24, 2013
Beverly Hills-based Bridal Atelier, Winnie Couture, announced today the December opening of its fourth flagship store in North Dallas, adjacent to the Stonebriar Centre Mall. Local brides seeking the perfect gown will appreciate the modern sophistication and timeless grace for which celebrity designer Winnie Chlomin Lee is famous.
Winnie Couture received stellar feedback following the debut of their 2014 styles at New York Bridal Fashion Week earlier this month. With two collections, brides will get a taste of red-carpet glamour with a perfect fit to their silhouette and their budgets.
About 2014 Collections
Blush Label
A fresh collection filled with delicious surprises, the Blush Label Collection is designed with the fashion-forward bride in mind. Understated elegance and contemporary glamour are the hallmarks of these affordable-couture creations. (Starting at $1400)
Diamond Label
Breathtaking. That is the word brides use to describe the lushly romantic gowns that make up Winnie's Diamond Label: our most innovative and exquisite collection. Painstakingly handcrafted with the finest imported fabrics and Swarovski-crystal embellishments, these extraordinary creations rise above bridal fashion into the realm of artistry. ($3600-$7000)
About Winnie Couture
Since 2001, Winnie Couture's impeccably crafted and profoundly feminine gowns have earned a devoted international following. Winnie Chlomin Lee's designs are celebrity favorites for red carpet events and weddings, as seen on Kelly Clarkson, Giuliana Rancic, Helen Hunt and many others. For more information, please visit http://www.winniecouture.com.
# # #
If you'd like more information about the grand opening, or to schedule an interview with the designer, please call Jennifer at (866)350-1348, or e-mail to dbrides(at)winniecouture(dot)com.