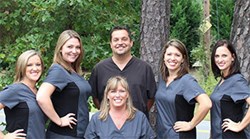 "This is a very significant finding and one that I'm anxious to share with my patients and the Charlotte community." --Dr. James Wells.
(PRWEB) January 09, 2014
In recent years, we've learned more and more about the link between a healthy mouth and a healthy body. But now research is pointing to specific connections of certain types of bacteria and diseases, in particular Rheumatoid Arthritis (RA). Dr. James Wells, of South Charlotte Dentistry, is taking steps to share this research with his patients and the community with the hope that the adage, 'prevention is the best medicine,' will get communicated.
"Advancements in research can only help consumers understanding of what and why things are happening in the body," says Dr. James Wells. "The more we all know the better we can first prevent, and then treat disease." Wells believes that he is in a unique position to open conversations about this new research as he sees patients one-on-one. Traditional publications and public service announcements do not have the impact that person to person communication has for education.
According to a recent article in a medical research magazine PLOS Pathogens, (September, 2013) http://www.plospathogens.org/article/info%3Adoi%2F10.1371%2Fjournal.ppat.1003627
chronic periodontal disease is linked to systemic inflammatory diseases in the body, including Rheumatoid Arthritis. Rheumatoid arthritis is an autoimmune disease causing chronic inflammation in the body and is responsible for bone and cartilage destruction within the joint. Periodontal disease is a silent and destructive disease of the supporting structures of the teeth including the gums, jawbone and periodontal ligaments.
The article states that when a specific kind of bacteria builds up in the mouth, it leads to chronic periodontal disease. When untreated, this build up of bacteria increases the prevalence of RA. And conversely, periodontal disease is at least two-fold more prevalent in people with Rheumatoid Arthritis.
"This is a very significant finding and one that I'm anxious to share with my patients and the Charlotte community," say Dr. James Wells. "As medical research advances, we're increasingly learning about the links between the health of the mouth and the health of the body."
And according to the article, research also points to therapeutic treatment of one disease improves the signs and symptoms of the other. "This is such critical information to get out to the public," says Dr. Wells. "I want people to know that we can treat periodontal disease here in the office and possibly many of their RA symptoms will improve.
Maintaining healthy gums is vital in preserving healthy teeth. At least 80 percent of adults who have periodontal disease experience bleeding gums and bad breath among other possible symptoms. Periodontal disease is not only linked to periodontal disease, but too many other diseases that affect the body, including coronary artery disease, diabetes and a weakened immune system.
If you have oral health issues that need to be addressed please contact Dr. Wells at South Charlotte Dentistry for an appointment today.