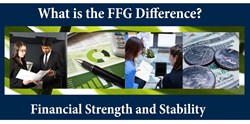 We believe that everyone has the power to make a difference, and this campaign celebrates the power and positivity of The FFG Difference.
Atlanta, GA (PRWEB) December 24, 2013
Foundation Financial Group announced that its newest marketing campaign, The FFG Difference, will focus on the way FFG professionals interact with clients instead of promoting the corporation's financial service products.
"In so much marketing, the message is aimed at selling a prospective consumer a specific product," said Jessica Gueterman, VP of Marketing at Foundation Financial. "We're doing it a little different for 2014. We'll be discussing 'the potential of us,' which encompasses the relationship between our professionals, clients, and communities, and demonstrates the emotionalism behind what we do as a corporation."
FFG Marketing has resolved to spend 2014 sharing the stories that cast Foundation Financial Group professionals, clients, and communities as the star. Product information will still be easily accessible via Foundation Financial's website and in consultations with its financial service professionals.
By taking a new direction, FFG Marketing will explore the corporation's motivation for funding American loans. "Spoiler alert, it's not just about money. Successful businesses seldom ever are. Like a dream within a dream, FFG's goal is to help Americans find the funding necessary for making their goals a reality and provide superior service in the process," continued Gueterman.
From this goal flow the merits which Gueterman feels distinguishes Foundation Financial among its peers. Best in Class Service, Closeness with Clients, and Community Connections are some of FFG's corporate qualities highlighted by the new campaign. The FFG Difference will spread slowly across its digital spectrum, reshaping the corporation's website design, social media sites, and shared content.
Foundation Financial Group will share anecdotes, testimonials, photos, and videos that showcase FFG synergy at work. Synergy, a buzz word for synchronized energy, captures the way FFG employees unite across corporate divisions to raise the standards for client service and community support. Through The FFG Difference Campaign, Foundation Financial hopes to engage and inspire employees as well as clients.
"We are stronger, faster, and more dedicated when we function as a team. And in that 'we', I include the entire FFG family- employees, their families, our clients, and the people in our communities. We believe that everyone has the power to make a difference, and this campaign celebrates the power and positivity of The FFG Difference," said Gueterman.
About Foundation Financial Group
Foundation Financial Group is a multibillion dollar financial services corporation. FFG offers its customers Best in Class service through its Insurance, Retirement, and Mortgage Services. Named one of the fastest growing financial companies in the country by Inc. Magazine for the third year running, FFG has continued to grow its nationwide presence with over 100,000 new customers per year in 39 states. In addition to the value that Foundation Financial provides every customer, it is also dedicated to its communities and the people who live in them. Through a vast array of philanthropic endeavors, the company not only provides significant monetary donations but also fosters a workforce environment that encourages all team members to personally make a difference. Foundation Financial is committed to its strong focus on customer service and community investment as it continues to grow and compete with the largest financial institutions in the world.
Foundation Financial Group reviews all public relations inquiries. For additional information, interview and image requests, contact the Foundation Financial Group Public Relations Team.