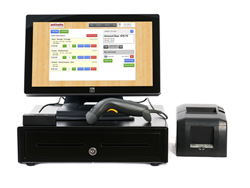 After months of preparation, MagicPay has officially launched its Canadian credit card processing platform
Boca Raton, FL (PRWEB) December 25, 2013
MagicPay is a South Florida based merchant services company offering payment processing solutions to businesses nationwide. On December 19, 2013 top management has announced its official entrance to the Canadian market. After months of preparations it has launched its Canadian platform allowing Canadian merchants to process credit cards easily and securely. At the moment, executives say, it will target retail merchants but will still offer MOTO (Mail Order, Telephone Order) and E-Commerce merchant accounts. The goal is to make mobile payments and credit card processing in general affordable even to small business owners by providing them with free terminals and cost effective pricing plans.
The Canadian merchant services industry is known for the long term contracts and local providers' conservative approach to merchants. MagicPay is trying to change that image by offering free equipment, month-to-month agreements and affordable payment processing plans. With that, MagicPay will offer its well-known marketing software that it has been offering merchants in the US. The software allows merchants to create a coupon and loyalty program for customers, therefore increasing the chances a customer will return to shop at the store again. The program has achieved great success among US clients and the same goal is planned to be achieved in Canada.
As part of making credit card processing available to small business owners as well, MagicPay will be providing credit card terminals and other processing equipment, as necessary, at no charge. By doing so merchant will save on equipment purchase or rentals and be able to use the capital for expanding their business and revenue. On top of that, in an era in which smartphones could be transformed to a credit card terminal, MagicPay is offering a mobile payments app that makes it possible for mobile merchants to take payments on the spot. The first product that MagicPay initially offered since its establishment, in early 2012, is the mobile payment solution that made it easy for traveling businesses to process credit cards. Since then additional unique and useful features were added to the mobile payments service including an online terminal, recurring billing, electronic invoicing, mobile API and an E-Commerce system that fully integrates to the mobile app.
MagicPay, a South Florida based merchant services company started in early 2012 by a college student, is offering credit card processing solutions to businesses nationwide. As part of its expansion to the Canadian market, MagicPay is trying to build a new image for the merchant services industry by offering free equipment, month to month agreements and simple pricing structure that would make it easy and affordable for small business owners to process credit card transactions. Being a mobile payments provider, MagicPay's motto is "Get Paid Anywhere" and the way management is implementing that in Canada is by providing a mobile payments app for smart phones and tablets as well as wireless credit card terminals for sales on-the-go. For additional information please visit our website at MagicPay.net