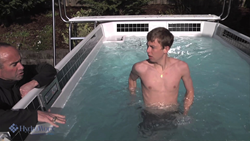 People are going to be surprised how good they feel running in the water because it takes so much stress off the joints, it makes you stronger by running against the resistance and helps you recover from running on land.
Middletown, PA (PRWEB) December 30, 2013
Some of the best runners and athletes in the world train utilizing cutting-edge underwater treadmill technologies. Now, science has shown that the same technologies can be used by recreational athletes to improve lean muscle mass, build endurance and reduce land-based exercise stressors.
Legendary Olympic Coach Alberto Salazar—whose protégés Mo Farah (Olympic 2-time Gold Medalist) and Galen Rupp (Silver Medalist) finished one-two, respectively, in the London 10,000 meters— swears by the benefits of underwater training for all runners, not just his world-class athletes. To supplement the intense trainings of Farah, Rupp and his entire team, he uses HydroWorx underwater technology, consistently noting that doing so helps his runners stay competitive without opening them to the possibility of repetitive stress injuries.
In fact, in his book "Underwater Treadmill Running", co-authored with Dr. Dennis Dolny, Salazar talks at length about why he believes underwater running has led to his athletes' tremendous success.
"I believe that whether you're an Olympic Gold Medalist or a recreational runner, an underwater treadmill provides tremendous benefits," says Salazar, who heads up the Oregon Project, an elite, long-distance running group where athletics is as much science as raw talent. "Underwater running is a way to get in extra miles without experiencing that extra pounding. There is no shock or trauma to the joints, tendons, ligaments or muscles."
Salazar isn't alone in his beliefs. Scientists who have studied the mechanics and outcomes of running underwater support his anecdotal evidence.
In a research study from the University of Idaho, a group of participants' metabolic rates was tracked as the participants exercised using a HydroWorx product. Afterwards, the researchers concluded that underwater treadmill training offered a viable exercise alternative to land treadmill running for athletes.(Rutledge, E., Silvers, W.M., Browder, K., & Dolny, D. G. (2007) Research Metabolic-Cost Comparison of Submaximal Land and Aquatic Treadmill Exercise. International Journal of Aquatic Research and Education) At Brigham Young University, those findings were echoed in a study that determined that underwater running was an alternative method of training to maintain cardiovascular fitness without the weight-bearing demands of land running. (Rife RK, Myrer JW, Vehrs P, Feland JB, Hunter I, Fellingham GW. (2010) Water treadmill parameters needed to obtain land treadmill intensities in runners. Medicine and Science in Sports and Exercise)
At Texas A&M University, a similar research study was conducted. The outcome of this study revealed that when a person engages in training on an underwater treadmill, he or she can expect decreases in weight, body fat percentage and body fat mass that are similar to those seen during land-based exercises. However, that same athlete can also expect lean body mass increases (especially in the legs) that outpace those seen in individuals who only train on land. (Lambert, B. S.; Greene, N. P.; John, G. S. (FACSM); and Crouse, S. F. (FACSM) (2010) Concurrent Resistance and Aquatic Treadmill Training Elicits Greater Lean Mass Gains than Resistance Training Alone. International Journal of Exercise Science: Conference Proceedings)
Consequently, whether training for a local 5K or the Boston Marathon, the average runner can use many of the techniques that the pros use to increase his/her performance. Salazar describes some reasons why he feels underwater running is important for any healthy runner—not just an injured runner or world-class athlete.

Underwater running builds strength and power. Running against the resistance of the water enables athletes to build power, using water's property of viscosity (drag), and achieve a greater workout in a shorter period of time.
Underwater running is refreshing and exhilarating. People feel rejuvenated and relaxed when they work out in the water; it has a soothing, calming effect. Warm water also releases endorphins that add enjoyment and satisfaction to a strenuous workout.
Underwater running helps athletes recover from running on land. As a cross-training module, an underwater workout allows a runner to log many more miles without getting injured. The joint and pain relief that water workouts provide are beneficial for an athlete at any level.
Concludes Salazar, "The HydroWorx treadmill will take any athlete to the next level of his training. You'll see gains in your performance. People are going to be surprised how good they feel running in the water because it takes so much stress off the joints, it makes you stronger by running against the resistance and helps you recover from running on land."
As the research continues to support what Salazar already believes to be true given his runners' phenomenal successes, more athletes at all stages and of all ages may want to explore the world of underwater running as a way to stay fit, be healthy and enhance their workout regimens.
Alberto Salazar is a Cuban-born American runner and coach who, as a student, received All-American honors at the University of Oregon and ran for the 1980 US Olympic team that boycotted the Moscow games. He broke the American indoor 5,000 meter record in 1981 and won three consecutive New York City Marathons and the Boston Marathon between 1980 and 1982. Salazar currently coaches for the Nike Oregon Project, training the most elite long-distance athletes in the world. He won the IAAF Coaching Achievement Award in 2013.
HydroWorx, based in Middletown, Pennsylvania, offers a wide range of underwater treadmill pools and peripheral products and services. Every day, over 23,000 athletes and patients use HydroWorx technology to recover from injuries, improve health conditions and train for peak performance. For more information, please visit http://www.HydroWorx.com.