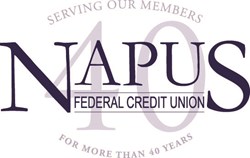 (PRWEB) December 24, 2013
NAPUS Federal Credit Union has just reduced the rates on their auto loans, and is now offering an even lower rate to members who have an active NAPUS FCU Visa credit card.
NAPUS FCU finances up to 100% of new and used vehicle purchases (and refinances) including tax, title, and tags, and repayment terms range from 48 to 96 months. Variable auto loan rates start at 2.25% Annual Percentage Rate (APR), and fixed rates start as low as 2.24% APR*.
In addition to the already low rates, NAPUS FCU is offering an additional 0.25% off the reduced auto loan rates for members who have an active NAPUS FCU Visa credit card. NAPUS FCU has several Visa card options with low rates, rewards programs, no annual fees, no cash advance fees, and no balance transfer fees.
Low rates are not the only way for members to save money with their auto loan. NAPUS FCU offers a variety of vehicle protection services:
Auto Warranty
Auto Warranty is available for new and used cars and can save members thousands of dollars in unexpected auto repairs. This cost of the warranty can be financed with the auto loan and includes savings of up to 50% off dealer plans, no reimbursement hassles, more than 12,000 covered parts, rental car reimbursement, trip interruption protection, and more.
Guaranteed Asset Protection (GAP)
GAP insurance protects members if they are in an accident and their car is totaled. GAP pays the difference between the primary insurance carrier's payment and the loan balance. GAP insurance can be added to your auto loan for $299, which is far cheaper than purchasing it through the dealer where it could cost $400 or more.
Complete Auto 360
Complete Auto 360 is a car care service and protection program that includes Dent Guard Auto Protection Plan, Emergency Roadside Assistance, Auto Maintenance Discounts, ASE-Certified Mechanics Helpline, and Gas Rebate Rewards.
Members who are interested in applying for an auto loan or Visa credit card can contact NAPUS FCU at 800-336-0284 or visit http://www.napusfcu.org for more information. Anyone who is not a member can visit http://www.napusfcu.org/join or https://www.napusfcu.org/New-Members-Page.aspx to fill out an application. Consumers may be eligible to join NAPUS FCU through the American Consumer Council (ACC). Please visit the ACC's website at http://www.americanconsumercouncil.org for more information on membership eligibility.
*Variable rate loan estimated payment is $14.87 per $1,000 financed based on 2.25% APR at 72 months. Variable rate payments will remain the same throughout the life of the loan but rate may change after loan is opened. Fixed rate loan estimated payment is $11.74 per $1,000 financed based on 3.00% APR at 96 months.
Federally insured by the NCUA.
Equal Housing Lender.