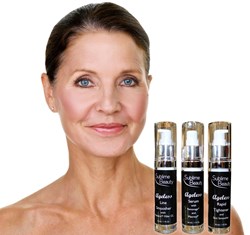 The new Ageless line from Sublime Beauty® includes powerful anti-aging ingredients for more youthful and healthier skin.
St. Petersburg, FL (PRWEB) December 27, 2013
Look better and improve skin quality in 2014!
Sublime Beauty® has introduced its new Ageless line with powerful anti-aging ingredients for healthier and younger-looking skin.
"We wanted to add products that would work with or compliment our popular current products, like the Face Whisperer® line," says Kathy Heshelow, founder of Sublime Beauty®.
"The Ageless line has performing ingredients, many from France, that make a difference in the way skin looks."
The three new Ageless serums are:
1) Line Filler with Hyacare® Filler CL
2) Rapid Skin Tightener with Sesaflash®, Renovage® and Matrixyl®
3) Ageless Serum with Renovage® and Matrixyl®
"We are especially excited to offer products with Renovage® and continue to be excited about great results with the ingredient Matrixyl®," says Heshelow.
Renovage® increases cell lifespan and makes corrections at the cellular level. Renovage® improves firmness and tone, reduces age spots and diminishes wrinkles.
What is different about Renovage®? It helps the skin to fight off aging, it helps lengthen skin lifecells, helps fight against and heal accumulated DNA damage, and can help skin to eliminate toxins that age it.
The peptide Matrixyl® boosts collagen levels and can double it. This effective ingredient is already included in the popular Sublime Beauty® Collagen Serum and Face Whisperer® Night cream. It is included in all three Ageless products.
Sublime Beauty® products are sold on Amazon, with fast shipping and secure checkout. Sublime Beauty® will be launching a webstore in early 2014 as well.