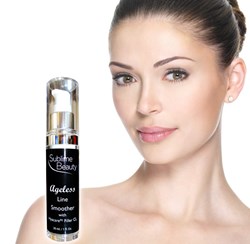 "Hyacare® Filler CL in our new Ageless Line Smoother is a topical alternative to injectable fillers," says Heshelow. "We also include Argireline® (the natural botox) and Matrixyl® to boost collagen. It is a great serum!"
St. Petersburg, FL (PRWEB) December 30, 2013
Everyone wants smoother, vibrant skin that looks its best; but many are afraid of needles and invasive dermal fillers. Sublime Beauty® has introduced a new serum to help attain the results.
"As we age, we lose collagen and hyaluronic acid from our skin, and this contributes to sagging, wrinkles and thinning of skin," says Kathy Heshelow, founder of Sublime Beauty®. "Our new serum has a patented formula used in dermal fillers (based on hyaluronic acid) plus the peptide Matrixyl®, which can boost new collagen synthesis."
The Ageless Line Smoother with Hyacare® Filler CL is now available and on sale. The serum should be used twice daily after cleansing, and before any day or night cream.
"Injectable dermal fillers are often based on cross-linked hyaluronic acid which is used to fill up wrinkles from underneath the skin," says Heshelow. "Evonik Industries saw that many people were not happy with this invasive and expensive approach and developed Hyacare® Filler CL as a topical alternative to injectable fillers. Our line smoother features it."
Clinical tests showed great improvement in one month and continued improvement by month three. Skin's ability to hold moisture, elasticity and quality improved as well.
The line filler is part of a new line that has just been introduced by Sublime Beauty®. The Ageless line includes a Rapid Skin Tightener with Sesaflash® and the Ageless Serum with Renovage® and Matrixyl®.
All Sublime Beauty® products are sold through Amazon, with free shipping and secure checkout. Sublime Beauty® will be launching a new Amazon webstore shortly as well.
"I love our new line filler, which not only includes the high quality patented ingredients but also aloe, chamomille and orange. It is very refreshing while improving your skin," says Heshelow.