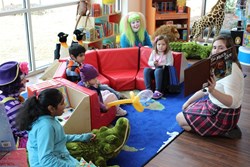 We love when play intersects with learning.
Raleigh, N.C. (PRWEB) December 31, 2013
From Living Sands to Squigz to Spirograph, the votes are in for the smartest toys of the year. Stone's Education Superstore, the area's largest independent retailer of educational toys, games, books and teacher supplies, released its list of "Top 10 Toys of 2013" that offer a double punch of entertainment and educational value for kids. These toys and games are perfect for keeping young minds actively learning and are highly recommended by Stone's staff and many have been awarded the seal of approval of the American Specialty Toy Retailing Association (ASTRA).
"We love when play intersects with learning," said Carol Madison, co-owner of Stone's Education Superstore. "That's why we recommend our list of the most popular toys, because they are in high demand by children and parents can rest assured these toys educate and stimulate young minds."
Over 550 of America's top independent and neighborhood toy retailers selected ASTRA's "Best Toys for Kids," based on the most engaging, unique and fun toys that offer fulfilling play for children. Stone's staff narrowed the ASTRA list and added the most popular toys sold in Raleigh to create its "Top 10 Toys of 2013," based on demand, parent feedback and the staff's keen understanding of how kids play
The best toys of the year can be found in-store, or on the Stone's Education Superstore website. The favorites include:
● Living Sands by Play Visions – Feel the sand come to life, really. Fun for both kids and adults.
● The Original Spirograph Deluxe Kit by Kahootz Toys – This creative art toy set will keep kids quietly creating fantastic art for hours.
● Turbo Twister Remote Control Stunt Car by Mindscope – This stunt car has a 360 degree rotating front axle and flashing LED lights and for creative fun, both inside and out.
● Squigz by Fat Brain Toys — These ultra-popular suction cups will keep minds busy building things all over the house. They don't leave marks, and adhere well to nearly any hard surface… including each other.
● Q-BA-MAZE 2.0 Mega Stunt Set by MindWare — This takes marble runs to a new level. The set includes 108 pieces plus coaster tubes, a trampoline and double-exit cubes and more, all offering endless configurations to keep creative minds busy.
● Snap Circuits SOUND by Elenco Electronics — Stimulate the scientific mind with 185 projects and more than 40 parts. The illustrated instruction manual makes it easy for kids to learn all about sound energy, voice recordings and more. It even connects to smartphone apps for more enjoyment.
● Blast Pad, Jr. by Marky Sparky – Even the youngest can stomp on this pad to make the rocket soar.
● Zingo! Sight Words by ThinkFun, Inc. — This interactive word game blends classic Bingo with a chance to learn words whose spelling doesn't always make sense. Leading educators created this game knowing that these sight words make up most written material. The fast-paced feel makes learning to read fun.
● Laser Maze by ThinkFun, Inc. — Science and magic become one and the same in this educational but fascinating challenge to direct a laser beam through a series of mazes.
● Snowballs by Snowtime Anytime – Enjoy winter fun all year with these snowballs. They look and feel like real snow, without the cold. Great for indoor play.
Children who accompany their parents to Stone's in search of these toys will find plenty of fun and distraction when they arrive at the retailer's new location in Raleigh. The building is solar-powered and features a video monitor system that displays real-time solar power generation and energy consumption statistics to help kids learn about renewable energy. Stone's recently held the grand opening for its new 17,000 square foot location in Raleigh.
Stone's Education Superstore is a local, independent retailer of educational toys, games, books and teacher supplies. As the region's largest independent educational toy store, we are passionate advocates for the shop local movement. Our staff takes great pride in helping families find outstanding educational toys and gifts. We also enjoy helping children learn about renewable energy and display our solar power generation and energy consumption on video monitors around the store. Visit Stone's at 210 Hampton Woods Lane off Chapel Hill Road on the Raleigh-Cary border, or visit Stone's online, on Facebook and Twitter: #StonesEduToys.
Founded in 1992, the American Specialty Toy Retailing Association is a nonprofit association of more than 1400 members that provides leadership and resources to grow the specialty toy industry. ASTRA includes locally-owned and independent retailers, specialty toy manufacturers, suppliers, book stores and school supply stores.