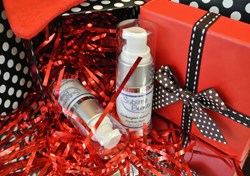 Popular serums from Sublime Beauty® in a gift box with bow are perfect for that late Christmas gift.
St. Petersburg, FL (PRWEB) December 24, 2013
Better late than never. Sublime Beauty® offers great gift choices for that late gift, in a festive Christmas box with bow, ready to give. And they are on sale, too.
"Anyone who is interested in looking better, or quality skincare, will appreciate this gift," says Kathy Heshelow, founder of Sublime Beauty®. "We include Collagen and Hyaluronic serums in a box, or add Retinol in a box of three serums- ready to give!"
The Sublime Beauty® Collagen serum is very popular, with the active ingredient Matrixyl®. Matrixyl boosts collagen production, an important element for youthful skin. We lose collagen each year, and this contributes to wrinkles, sagging and thinning of skin.
Studies published in Molecular Pharmaceutics magazine by Ian Hamsley this year showed that Matrixyl can double collagen production.
Hyaluronic serum works to plump and cushion skin, while Retinol is considered the workhorse of skincare routines. Retinol can reduce age spots, wrinkles, pores and hyperpigmentation; it helps to improve skin quality and also helps to promote collagen synthesis.
All Sublime Beauty® products are available through Amazon, with fast shipping and secure checkout. All late Christmas gifts can be seen on the Sublime Beauty® website gift page.