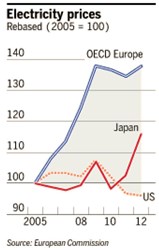 ..the 'consensus' theory of human/anthropogenic global warming is flawed..."There's been a lack of warming for 20 years, despite a rise in carbon dioxide...
Calgary, Alberta, Canada (PRWEB) December 26, 2013
Recent extreme storms and ice storms in eastern Canada reflect climate trends under reported in the media, say Friends of Science. Peer-reviewed studies by solar scientists indicate a 'solar hibernation' may be imminent according to a recent report by Dr. Mahdav Khandekar.
Over the past six years, extreme cold weather in central and eastern Europe, India and South America has led to the deaths of hundreds of people, Khandekar reports debunking the claims of global warming causing extreme weather like Typhoon Haiyan, in a report published Nov. 27, 2013 by the Global Warming Policy Foundation. Sadly, the IPCC scientists have not even mentioned this trend in their recent reports.
Friends of Science say climate cycles on earth are directly and indirectly affected by solar cycles and that the mainstream obsession with global warming has left citizens unprepared for cold weather extremes.
"Friends of Science have been cautioning, for some time, that global cooling has begun and we need to be more prepared. Cold weather kills far more people than warm conditions," says Ken Gregory, research director for Friends of Science. "As Canadians know, you need to be prepared for it. Many people in the world are not."
The UK Office of National Statistics says, "An estimated 31,100 excess winter deaths occurred in England and Wales in 2012/13 – a 29% increase compared with the previous winter.
Dr. Khandekar report states that: "The northern hemisphere has witnessed four severe winters (2002/03, 2005/06, 2007/08, 2009/10) since 2000, with the European continent bearing the brunt of the cold weather. The severity of winter 2002/03 was felt all the way to south Asia, where hundreds of people... died due to exposure to colder weather and lack of adequate heating..."
The report describes how the 2011/12 winter was very severe in Europe, particularly February 2012 when temperatures in the east were below −40°C. Hundreds died. In March 2013 the UK suffered low temperatures that broke records while in North America ..."the winters of 2002/03, 2007/08 and 2009/10 were significantly colder and snowier than normal and were linked to an extreme negative phase of the North Atlantic Oscillation, a slow-varying large-scale atmospheric flow pattern (Seager et al. 2010)."
"Recently peer-reviewed papers explore the growing scientific evidence that the 'consensus' theory of human/anthropogenic global warming is flawed," says Gregory. "There's been a lack of warming for 20 years, despite a rise in carbon dioxide."
Khandekar's report states that solar scientists are warning of colder weather as the sun goes into a grand minimum - or 'solar hibernation.'
"The sun's radiant energy remains about the same," says Gregory, "but the sun's influence is far greater than just heat. Its magnetic field changes; that appears to affect our earth's natural cycles in many ways. Our science review shows that the sun is the main driver of climate change, not CO2."
"Canadians are best prepared to face lower temperatures. We already have central heating and snow emergency plans," says Gregory. "However we will need cheap, reliable power plants. Canada pulled out of Kyoto in 2011."
Britain now faces blackouts and lack of capacity as coal-plants close to meet EU climate change GHG reduction targets.
"Carbon dioxide is not the main driver of climate change. Canadians need reliable conventional heat and power. We cannot afford to be in the cold and dark," says Gregory.
Friends of Science invite the public to join and become members. A gift CD of original Bob Erlendson jazz is offered now with every 3 year membership (void where not permitted). Memberships are available on-line. International applicants should only use PayPal or Credit Card.
About
Friends of Science have spent a decade reviewing a broad spectrum of literature on climate change and have concluded the sun is the main driver of climate change, not carbon dioxide (CO2). The core group of the Friends of Science is made up of retired earth and atmospheric scientists.
Contact:
Friends of Science Society
P.O.Box 23167, Connaught P.O.
Calgary, Alberta
Canada T2S 3B1
Toll-free Telephone: 1-888-789-9597
Web: friendsofscience.org
E-mail: contact(a)friendsofscience(dot)org