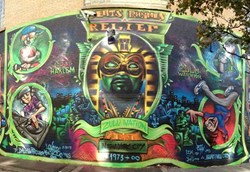 New York, NY (PRWEB) December 31, 2013
On November 10, 2013 in celebration of the 40th anniversary of The Universal Zulu Nation & 39th birthday of Hip-Hop, Beats, Rhymes & Relief, hosted a block-party as part of the Making Beats Count country tour brings US-based art communities together around a shared vision: the power of music, visual and performing arts in building communities of service.
The forth entry in the contest, "The Foundation", brought together national graffiti artists to work in partnership with NYC-based artists and musicians to shoot a music video and create a permanent mural that speaks to local communities.
The NYC event was organized by Beats, Rhymes & Relief in partnership with Universal Zulu Nation, Peoples Survival Program, and The National Black Theatre around the celebrations of the 40th anniversary of the Universal Zulu Nation and the 39th Birthday of Hip-Hop. The main event sponsor was PCDJ.
The event was attended by 150 people and featured Hip-Hop icons including Afrika Bambaataa, an iconic figure who is credited as being the "father of Hip-Hop." A winter clothing drive collected items for the needy in the Harlem area.
About the Mural:
The graffiti mural painted on the side of the National Black Theatre in Harlem was dedicated to preserving culture, community and service. The 100-foot mural was broken into 3 parts, anti-violence, Hip-Hop culture, and preserving heritage.
The left side of the mural is dedicated to iconic people who lost their lives to violence and those striving to make a difference for youth and racial inclusion. Included is the image of Trayvon Martin, a young boy who lost his life in Florida to racial gun violence. The center of the wall featured Afrika Bambaataa, in a design that resembled a "$0 Bill" symbolic of the notion that we should find more value in culture than money. It paid homage to Afrika Bambaataa contributions and continued cultivation to Hip Hop. The characters in each corner represent the core elements of Hip-Hop culture: Graffiti, DJs, break dancers and emcees. The right side of the mural was dedicated to "Keeping Soul Alive", honoring the rich 45 year legacy of arts and community promoted by the National black Theatre. The banner says the words: "Make Your Culture Count" next to an image of iconic Dr. Barbara Ann Teer, a community leader and activist. The background, stretching across the entire mural is a universal galactic skyline with images of family, outreach, and education to promote positivity throughout the global community.
The next Making Beats Count event will be held in Los Angeles, California in early 2014.
About Beats, Rhymes & Relief:
Beats, Rhymes & Relief is a US-based 501(c)(3) non-profit organization based out of Washington, DC utilizing the arts to raise awareness and support for worldwide humanitarian relief efforts. Beats, Rhymes & Relief harnesses the power of cultural diplomacy to raise the profile of global issues through high-profile public music concerts.
Press Contact:
Omar Al-Chaar
Co-Founder & President, Beats Rhymes & Relief
Omar(at)beatsrhymesandrelief(dot)org