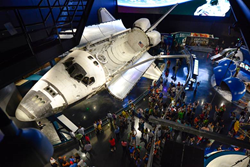 "There is a moment in the new Space Shuttle Atlantis exhibit at NASA's Kennedy Space Center Visitor Complex when a fantasy becomes reality and the experience is nothing short of magical."Rob Pearlman, NBCNews.com
Cape Canaveral, Florida (PRWEB) December 26, 2013
The June 29 opening of the $100 million Space Shuttle AtlantisSM attraction at Kennedy Space Center Visitor Complex was a 2013 tourism industry highlight, garnering international media attention and praise from visitors who came to Central Florida to see the iconic spacecraft in its new home.
The new attraction was the most significant addition to the Visitor Complex since Shuttle Launch Experience in 2007, bolstering attendance to the unique destination where guests can explore like they're at a museum, learn like they're at a science center, and have fun like they're at a theme park.
Atlantis immediately became the marquee element of the Visitor Complex, providing guests with another "bucket list" must-see along with the authentic, never-launched Saturn V moon rocket on display at the Apollo/Saturn V Center. The year also saw the Visitor Complex open the Angry Birds™ Space Encounter in March.
Space Shuttle Atlantis was developed by Delaware North Companies Parks & Resorts, operators of Kennedy Space Center Visitor Complex for NASA since 1995, as well as St. Louis-based PGAV Destinations, in partnership with NASA.
The 90,000-square-foot attraction features the historic Atlantis spacecraft as only astronauts have seen it before – rotated 43.21 degrees with payload bay doors open and its Canadarm (robotic arm) extended, as if it has just undocked from the International Space Station (ISS).
The immersive experience invites guests to "be the astronaut" with never-before-seen, technologically sophisticated multimedia presentations and more than 60 interactive, touch-screen experiences and high-tech simulators that bring to life the people, passion and patriotism of the 30-year Space Shuttle Program, as well as the complexity and magnitude of the engineering marvel that launched like a rocket, flew in orbit like a spacecraft and landed on a runway like a glider.
Atlantis was developed with top-of-the-line audio/visual and show systems, theme park technology seen in Orlando's newest and most popular attractions, seldom-seen NASA images and footage, and reality-based astronaut training simulations that combine to create a first-of-its-kind attraction.
Space Shuttle Atlantis also highlights the astounding achievements made possible by the shuttle, most notably, the building of the ISS and the deployment and maintenance of the Hubble Space Telescope.
Among the rave reviews Space Shuttle Atlantis has garnered from the media:
"There is a moment in the new Space Shuttle Atlantis exhibit at NASA's Kennedy Space Center Visitor Complex when a fantasy becomes reality and the experience is nothing short of magical."
Rob Pearlman, NBCNews.com
"Instead of simply putting the orbiter on display, KSC and its partners have created a dramatic reveal, a chest-swelling moment that might lose its impact if you knew what was going to happen."
Miami Herald reporter Marjie Lambert
"At Kennedy Space Center today, the belle of NASA's retirement ball made its much-anticipated debut. Atlantis, the last space shuttle to soar, is the centerpiece of a new exhibit that commemorates the entire 30-year history of the shuttle program."
NBC Nightly News anchor Lester Holt
"The shuttle inside is the real deal…but only a handful of astronauts have seen Atlantis like this before, as though it is in orbit, so close you can almost reach out and touch it."
NPR reporter Matthew Peddie
"This is fantastic on so many levels, but the signature item? It's Atlantis, with the payload doors open. Just an absolutely wild thing to see."
CBC (Canadian Broadcast Corporation) Correspondent David Common
Guests have extolled Space Shuttle Atlantis' merits on TripAdvisor:
"It was, however, the newest exhibit which was perhaps the most amazing – the Space Shuttle Atlantis was brilliant and almost worth the admission price on its own. The Imax presentation of the shuttle work on the Hubble telescope was also fascinating. If you are in this area of Florida this is not to be missed."
"This was our fourth visit to Kennedy Space Center, and we were concerned we would see the same exhibits again. Nope, Kennedy Space Center's visitor complex was updated and awesome. The Space Shuttle Atlantis is housed in the renovated Shuttle Launch Experience building. To see an actual space orbiter in person is a 'goose bump' experience. There are a lot of simulation stations keeping the young and young at heart busy. There is lots to see and do here. … Back at the Visitor Complex there's a new Angry Birds interactive exhibit that's great for kids of all ages. Kennedy does a great job of making learning fun!"
"The new Atlantis exhibit had only opened just over a week before out visit, and I had no idea what to expect. However, it was truly breathtaking and is not to be missed. … In my naivety I had no idea that the Kennedy Visitor Centre was so big and there was no way you could see everything in the one day. … This trip was one of the highlights of our Florida holiday and makes a change from the theme parks."
Space Shuttle Atlantis also is generating praise from meeting planners who have hosted events underneath the historic spacecraft. The United Way of Brevard County recently launched its 2013 giving campaign underneath Atlantis with more than 300 people in attendance.
"If you want your guests to remember that it was your organization that gave them this spectacular experience, do whatever you can to get your guests under that shuttle. I promise that they will be grateful," said Rob Rains, United Way of Brevard president.
The 40-member Boeing Space Exploration/Network and Space Systems Leadership team also recently enjoyed an evening at Atlantis.
"The Atlantis exhibit made an outstanding venue for hosting our event," said LaDonna Neterer, Boeing customer relationship specialist. "This venue is wonderful for hosting large, high-visibility meetings. We all very much enjoyed it and were thrilled to see Atlantis in her new home."
About Kennedy Space Center Visitor Complex
Kennedy Space Center Visitor Complex brings to life the epic story of the U.S. space program, offering a full day or more of fun and educational activities, including the Kennedy Space Center Tour featuring the Saturn V Center with an actual Saturn V moon rocket, the new Angry Birds™ Space Encounter, Shuttle Launch Experience, 3D IMAX® space films, Astronaut Encounter, Exploration Space: Explorers Wanted and many other interactive exhibits. The new $100 million home for Space Shuttle AtlantisSM opened June 29, 2013. Admission also includes the U.S. Astronaut Hall of Fame®, featuring historic spacecraft and the world's largest collection of personal astronaut memorabilia, which opens daily at noon and closing times vary by season. Only 45 minutes from Orlando, Fla., Kennedy Space Center Visitor Complex opens daily at 9 a.m. with closing times varying by season. Admission is $50 + tax for adults and $40 + tax for children ages 3-11. The Kennedy Space Center Visitor Complex offers annual passes starting at $75 + tax for adults and $60 + tax for children ages 3-11. For more information, call 877-313-2610 or visit http://www.KennedySpaceCenter.com.
-kscvc-
EDITOR'S NOTE – Space Shuttle Atlantis video can be accessed at the following links:
Space Shuttle Atlantis, b-roll
Space Shuttle Atlantis and "Be the Astronaut" simulators b-roll
Space Shuttle Atlantis narrated video (includes interviews with Space Shuttle Astronaut Wendy Lawrence; also includes interviews with Bill Moore and Tim Macy who are no longer affiliated with KSCVC)
Media Contact:
Nancy Glasgow, 407-375-2433, nancy(at)bitner(dot)com