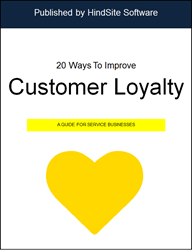 For service businesses, many of whom may only service a customer once or twice a year, delivering great service is the key to business growth.
St. Paul, MN (PRWEB) December 30, 2013
For many service businesses, adding new customers can be a costly proposition. It's much easier - and more cost-effective - to sell more products and services to existing customers. But doing so requires service businesses to develop programs and processes that create loyal fans of their business.
To help, HindSite Software recently released an eBook, titled 20 Ways to Improve Customer Loyalty: A Guide for Service Businesses, that aims to show service businesses what steps to take to improve the loyalty of their customers so they can generate more revenue. As the name states, the book contains 20 tips that service businesses can use to turn their indifferent customers into loyal fans of their business.
"For service businesses, many of whom may only service a customer once or twice a year, delivering great service is the key to business growth," explains HindSite's President and founder, David Crary, the author of the eBook. "Before I started HindSite, I owned an irrigation service business. In addition to irrigation software, loyal customers were the key to my explosive growth."
Among the topics discussed in the eBook is the importance of touchpoints. The book recommends creating a touchpoint map that shows every possible way a service business may interact with a customer. Then, service business owners need to brainstorm ideas to make sure they exceed expectations at every one of these touchpoints.
"I own a work order software business, and we call service businesses all the time," explains Crary. "One of the things that continually surprises me is how frequently service businesses don't answer the phone. And, even worse, how many of them don't have voicemail. That's why mapping and improving every touchpoint is so important."
Another often overlooked way to improve loyalty is to develop values for your business. Company values have a two-fold effect on customer loyalty; first, studies continue to show that customers gravitate to companies with similar values. It also gives direction to employees, helping them understand what their employer values. By living those values on a daily basis, employees can deliver better service and foster a loyal customer base.
"At HindSite, we've found that developing company values has made a significant impact," explains Crary. "It helps us define who we are, as well as provides criteria to use when hiring and rewarding our employees."
For more tips, download the free eBook at http://www.hindsitesoftware.com/20-ways-to-improve-customer-loyalty.cfm.
About HindSite Software
HindSite Software has helped contractors better manage and grow their business with work order software since 2001. Initially designed as irrigation software, HindSite today assists service businesses with scheduling and billing, contact management, field data collection, and invoicing in QuickBooks®, Sage Peachtree®, and Simply Accounting®. When used by lawn care businesses, this paperless lawn care software has been proven to increase efficiency and organization, meaning greater profit potential with less administrative time.