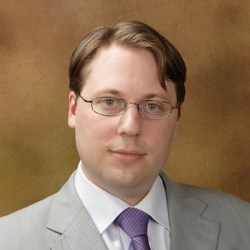 I believe TLI graduates are uniquely prepared to to navigate the 'gray zones' and unlock transformational growth opportunities for their employers, customers, and society.
Minneapolis, MN (PRWEB) December 30, 2013
At an impromptu guest appearance James Ryan addressed a full room of students
enrolled in graduate programs at the University of Minnesota's Technological Leadership Institute (TLI).
These students are developing advanced expertise in business and infrastructure resilience which is a high-demand 'gray zone' - where business, engineering, science and technology, policy, innovation, and leadership converge.
Dr. Massoud Amin, Director of TLI, welcomed James and added "we are delighted by our shared vision for innovating effective and pragmatic strategies that compete against advanced attacks."
As James spoke he described WHY businesses and nations need 'gray zone' skills AND the fundamental reason that these skills will be in high demand for decades. James gave students his unfiltered view in the same way that he describes the paradigm shift to boards of directors and c-suite executives.
When asked what impressed James the most about TLI students, James replied: "Aside from being hand-picked by a top ranked university, I was also impressed by what students learn through TLI's interdisciplinary program. I believe TLI's approach uniquely prepares students to see across traditional boundaries and to become top-notch analysts, leaders, and executives who navigate the 'gray zones' and unlock transformational growth opportunities for their employers, customers, and society.
About TLI: TLI's mission is to develop local and global leaders for technology enterprises, and to empower executives and leaders in their strategic vision to leverage technology to drive business development. As an interdisciplinary institute, founded by an endowment in 1987, TLI brings together 7 endowed chairs, 54 senior faculty members from across 8 colleges and 3 centers, industry executives, and government leaders to serve this mission.
About Litmus Logic: Litmus Logic is a leading provider of security strategy advisory, training, and implementation services for governments and privately owned critical infrastructure providers. Litmus Logic is a privately held Maryland-based company and is a member of the US Critical Infrastructure. James is a co-founder of Litmus Logic, LLC and is a sought after speaker for media and conferences such as the History Channel, Cyber Security Summit, and DoD Cybercrime Conference.