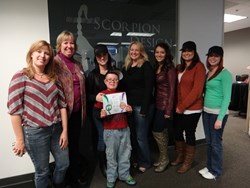 Valencia, CA (PRWEB) December 23, 2013
In December 2013, Scorpion Design's charitable branch Scorpion Cares held an in-house charity drive for two local charities: the Santa Clarita Valley Food Pantry and the Michael Hoefflin Foundation. Scorpion's employees were split into two separate teams, and then given the goal of raising as much money as possible. The results were enormous. Through personal donations, as well as the generous donations from local businesses and family and friends, the teams were able to raise a grand total of more than $45,000.
The first team raised more than $19,000 to benefit the Santa Clarita Food Pantry, a nonprofit organization whose goal is to alleviate hunger in the local area; it is their mission that "no child in the Santa Clarita Valley should go to bed hungry." On December 18, Executive Director Belinda Crawford made a visit to Scorpion Design's offices, where she was presented with the checks and a certificate displaying the total amount raised. Overwhelmed, she stated the SCV Food Pantry pledged to be "a good steward of every penny."
Belinda helped explain where these charitable donations would be going. "Monetary donations allow us to replenish items when we run low or extinguish our supply and purchase specific items for our specific programs," said Crawford. She also discussed their specific goals with their milk program, which began six years ago. "Through this program, we provide one gallon of milk per month for each child in the family," she said. "With the lack of calcium and vitamin D in children's diets today—particularly children in low income families—we feel it is an important investment in the future health of these children in our community."
Belinda later added, "It's only through the generous support of others, like the individuals at Scorpion Design, that we can provide service to our neighbors in need and help fill hungry tummies here in the SCV."
The second, and winning, team raised more than $26,000 for the Michael Hoefflin Foundation for Children's Cancer, which provides financial and emotional support for children facing pediatric cancer. On December 19, Scorpion was host to several guests as they came to accept the checks raised for the foundation. Not only did Executive Director Gillian Stone arrive, but Scorpion also met Tyler Cordova and his mother Holly, a family who directly benefited from the support of the Michael Hoefflin Foundation. Tyler was greeted by a full office and was presented with a gift basket of some of his favorite items, as well as tickets to a Celtics game.
Tyler, who is now cancer-free, was only 4-years-old when he was diagnosed with non-Hodgkin's lymphoma. As his mother told Scorpion, their family rushed out of the house when they realized Tyler could not breathe. At the emergency room, an X-ray showed that Tyler had a large tumor filling his chest—surrounding his heart and compressing his airway. "During the several years that Tyler was in treatment, the Foundation helped us in so many ways, including financial assistance with monthly gas and grocery cards, providing counseling for Tyler, and partnering with other organizations to provide amazing opportunities like summer camp," said Holly. "But honestly, the biggest way they helped is by introducing us to other families dealing with cancer."
It is this personal one-on-one attention that makes the impact of Michael Hoefflin Foundation so profound. "Some days at the Foundation are very tough—we cry almost every day (sometimes happy tears, sometimes sad tears)—but our families give us incredible strength and the ability to keep going in our mission," said Stone. "The families are grateful for the support of the Foundation and often, like Tyler and Holly, they join us in our mission to help others. This validates and motivates me to continue to fight and help these families."
Throughout the year, Scorpion Cares makes continual efforts to help people in need—on a local, national, and even global level—but nothing makes them prouder than their annual charity drives. Last year, Scorpion collected more than 12,000 canned goods and toiletry items for the SCV Food Pantry, and this year, they turned their efforts to raising as much money as possible for two charities in their own neighborhood.
"I could not be more proud of our team and our commitment to helping people," said President Rustin Kretz. "We strongly feel it is important that businesses help give back to those in need, and our team rallies around this. The feedback we got was overwhelmingly positive, and we look forward to doing even more next year."
Scorpion Design, LLC is an Internet marketing company that strives to help businesses across the nation to increase their business and get new clients through effective marketing strategies. From lawyers to home service companies to healthcare professionals, they have shown that they have what it takes to provide stunning websites, professional content, and cutting-edge technology—all for the purpose of increasing their clients' revenue. To learn more about Scorpion, as well as their charitable outreach programs through Scorpion Cares, do not hesitate to give them a call or visit them online at http://www.scorpiondesign.com.