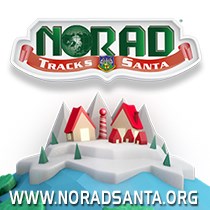 Throughout the year the men and women of NORAD work hard to provide aerospace security for North America, but for this one night every year, we are able to bring the magic of Christmas to children around the world. -Navy Lt. Cmdr. Bill Lewis, NORAD
BOISE, Idaho and PETERSON AIR FORCE BASE, Colorado (PRWEB) December 24, 2013
CradlePoint, the global leader in cloud-managed 3G/4G networking solutions for distributed enterprises, is once again helping NORAD track Santa over the skies of North America. As a member of the NORAD Tracks Santa team, CradlePoint, in partnership with Verizon, assists NORAD in following Santa across the globe, helping children determine his location, and ensuring a safe yuletide journey for Old St. Nick.
More than 1,200 Canadian and American Santa tracking volunteers at the NORAD Tracks Santa Operations Center at Peterson Air Force Base will use CradlePoint's enterprise grade networking solutions to connect to Verizon's high-speed 4G LTE network. As volunteers in the call center access the Internet to pinpoint Santa's location, answer emails, update social media, and download apps, CradlePoint's routers will be used to load balance connectivity across different networks to maximize response times and throughput. Verizon has been providing the toll-free hotline since 2002. In 2012, more than 114,000 calls and 7,000 emails were answered from more than 200 countries.
Starting today at 12:01 AM MST, website visitors can watch Santa make the preparations for his flight. Then, at 4:00 AM MST, trackers worldwide can see Santa's progress online or speak with a live phone operator to inquire as to Santa's whereabouts by dialing the toll-free number 1-877-HI-NORAD (1-877-446-6723) or by sending an email to noradtrackssanta(at)outlook(dot)com. OnStar subscribers can press the OnStar button in their vehicles to find Santa's location anytime today. NORAD's "Santa Cams" will stream videos on the website as Santa makes his way over various locations.
Santa tracking starts with NORAD's radar system called the North American Warning System, which has 47 installations across Canada's North and Alaska. NORAD monitors the radar closely for indications Santa Claus has left the North Pole. Then, NORAD satellites 22,300 miles above the earth pickup and follow the heat signature given off by Rudolf's nose (equal to that of a missile launch). Finally, Santa is greeted when he enters North American airspace by NORAD jet fighters. Even though Santa flies faster than any jet fighter, he is nice enough to slow down to let NORAD escort him. All of these systems together provide the Santa Trackers back at the operation center a very good, continuous picture of his whereabouts.
"Throughout the year the men and women of NORAD work hard to provide aerospace security for North America, but for this one night every year, we are able to bring the magic of Christmas to children around the world," said Navy Lt. Cmdr. Bill Lewis, a NORAD spokesman. "We at NORAD are honored to be a part of so many peoples' holiday traditions. Thank you to our many volunteers and our corporate contributors for making this program possible, and we look forward to doing it again next year."
Santa tracking started back in 1955 when a misprint in a local media advertisement directed children to call Santa direct. Instead of reaching Santa however, the phone rang through to the Crew Commander on duty at the Continental Air Defense Command Operations Center. Thus, began the tradition that NORAD has carried on for the past 58 years.
About NORAD
NORAD is a bi-national U.S./Canadian military organization responsible for aerospace warning, aerospace control, and maritime warning in the defense of North America. NORAD provides warning of impending missile and air attacks, safeguards the air sovereignty of North America, and maintains airborne forces for defense against attack. NORAD performs this important mission 24 hours a day, 365 days a year. However, on December 24th each year, NORAD has one additional mission: Tracking Santa around the world! To learn more about NORAD, go to http://www.norad.mil or follow us on Facebook at http://www.facebook.com/noradnorthcom.
About CradlePoint
CradlePoint is the global leader in cloud-managed 3G/4G networking solutions, providing business-grade, secure and reliable connectivity to distributed enterprises. Specializing in business continuity, advanced edge routing, machine-to-machine (M2M), and primary connections, CradlePoint's award-winning solutions are purpose built for PCI-compliant networks. CradlePoint is the first to pioneer and fully enable high-speed LTE in its solutions to maximize the potential of the cloud for businesses worldwide. CradlePoint is a privately held company in Boise, Idaho. Learn more at CradlePoint.com or follow on Twitter @CradlePoint.
###
MEDIA CONTACTS
Michael Rotchford
CradlePoint
(208) 639-4276
mrotchford@cradlepoint.com
NORAD
(719) 554-6889
nnc.pa.nts.omb@northcom.mil