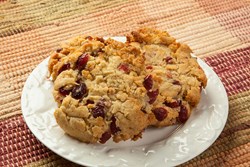 World Gardens Cafe has perfected the gluten-free cookie.
Upland, CA (PRWEB) December 30, 2013
Interested in a guilt-free dessert? World Gardens Café has what you're looking for. Available in chocolate chip or coconut cranberry, WGC has perfected the gluten-free cookie, and are making their delicious treats available for everyone, even people with Celiac disease, to enjoy.
World Gardens Café's mission is to create a healthier world by providing quick, healthy alternatives to fast food. Their food helps people of all ages and dietary needs live longer, healthier lives. As the premier provider of home-delivered, fully prepared, healthy gourmet cuisine, World Garden's Cafe specializes in providing gluten-free frozen meals to clients in California, Arizona, Nevada and Utah. The delicious and flavorful meals are prepared by celebrity Chef Ravi and are then carefully packaged, frozen, and delivered to consumers' homes. Customers can purchase food online or via phone, and have the convenient option of delivery or local pickup at Foothill Kitchens which is located at 360 W. Foothill Blvd, in Upland, CA.
For more information visit http://www.worldgardenscafe.com, like WGC on Facebook and Follow WGC on Twitter.