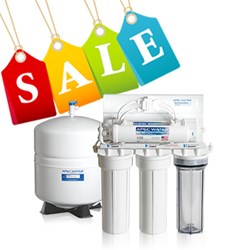 APEC's mission has always been to provide affordable products that can benefit the health of our customers...
(PRWEB) December 24, 2013
As the year comes to an end, retailers roll out holiday deals that make it hard for customers to pass up on. On December 26th, APEC Water Systems is offering their biggest sale of the year by giving customers a 10% discount off the entire store for one day only. APEC offers a wide range of healthy water products such as reverse osmosis drinking water systems, whole house filtration systems, shower filters, replacement water filters, water softeners and many other water treatment systems catered to meet different homeowner's needs. In the past, APEC has offered percentage discounts on select items but never 10% off the entire store. Visit APEC's promotion page to get the coupon code for 10% off and apply it in the priority code box upon checkout.
APEC's most popular drinking water purification systems will be marked down to the lowest prices. Built in the USA, these systems use high quality components to provide filtered water in the kitchen, eliminating any plastic bottle clutter and cost. On top of the 10% discount, every residential RO system will include a free clear housing upgrade, an extra yearly filter set and a water testing meter ($100 value). The clear housing will allow you to see the color and condition of your filters for better system care and the water meter will allow you to see the exact percentage of contaminant removal that the system is providing. These systems use reverse osmosis technology to filter up to 99% of all pollutants found in tap or well water and provide purified drinking water from the tap. "APEC's mission has always been to provide affordable products that can benefit the health of our customers and with the holiday season upon us, what better time to take that mission to the next level and give our customers the most affordable options with our biggest sale of the year," said Chris Rodriguez at APEC Water Systems. Start out the New Year with better water and better health.
In addition, take advantage of APEC's 10% off promotion code to get the lowest prices on all whole house systems. APEC carries whole house treatment systems for all types of water conditions designed to remove chlorine, sediment, fluoride and iron from the whole home. Filtered water throughout every shower means softer hair, smoother skin and healthier lungs. Pair a drinking water system with a whole house filter to completely filter the water throughout every faucet in the home. Visit APEC's promotion page to get full details on a variety of different promotions which are going on from now until January 2nd, 2014.
About APEC Water
For over 17 years, APEC has been an industry leading manufacturer of high performance residential and commercial water purification systems. Based out of Southern California, APEC specializes in building the highest quality reverse osmosis drinking water systems and whole house water filters right here in the USA. The company offers their products exclusively through their website at Freedrinkingwater.com which also provides an extensive water filtration guide and library to the public. To learn more about APEC Water and their current sales promotions, please visit http://www.freedrinkingwater.com or call customer service at 1-800-880-4808 for more information.