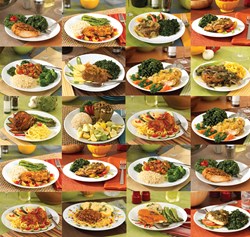 Enjoy a healthy and delicious meal anytime with World Gardens Cafe's food.
Upland, CA (PRWEB) January 01, 2014
Losing weight generally comes on the top of everyone's list when it comes to New Year's resolutions, but for most people, diet and exercise fall to the wayside within the first quarter of the year. Fortunately, however, World Gardens Café was created to help people stay on the wagon and achieve their weight loss goals. How does World Gardens Café do this? Not only do they create healthy meals that can help you reach your weight loss goals, but their meals are delivered to your doorstep, and can be prepared in minutes so you can have a healthy and delicious meal anytime.
Interested in trying World Gardens Café's meals? Use coupon code "254P" to get 4 meals for only $25 and code "FREESHIP" to also get free shipping on your first order.
World Gardens Café's mission is to create a healthier world by providing quick, healthy alternatives to fast food. Their food helps people of all ages and dietary needs live longer, healthier lives. As the premier provider of home-delivered, fully prepared, healthy gourmet cuisine, World Garden's Cafe specializes in providing gluten-free frozen meals to clients in California, Arizona, Nevada and Utah. The delicious and flavorful meals are prepared by celebrity Chef Ravi and are then carefully packaged, frozen, and delivered to consumers' homes. Customers can purchase food online or via phone, and have the convenient option of delivery or local pickup at Foothill Kitchens which is located at 360 W. Foothill Blvd, in Upland, CA.
For more information visit http://www.worldgardenscafe.com, like WGC on Facebook and Follow WGC on Twitter.