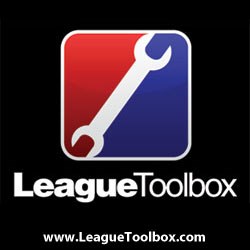 I just wanted to contact your team at LeagueToolbox and thank you for all your help with our 2013 baseball league. We really appreciate the time you took to help us with our 2013 registration
(PRWEB) December 24, 2013
Chris Christie of LeagueToolbox.com said he has plenty to be thankful for this holiday season including a tech team that has delivered some outstanding new features for their league management software just in time for 2014.
New League and Team Templates
"We worked hard to give the templates a new refreshed look yet not to overly disturb or drastically change what leagues are used to seeing. The sites are now "cleaner" and work nicer on tablets and phones."
A New Real "Front Page Slideshow"
Christie stated, "We constantly heard about how our slideshow was missing some basic features so we added this front page slideshow. Things like being able to scroll through the images and thumbnails of the articles on the slideshow. There are a few more options available for the slideshow as well now."
Re-namable Registration Buttons
"Leagues can now rename the "Officials Registration", "Coach Registration" and "Camps & Clinics" registration buttons to be whatever they like," Christie added. "If they only register umpires, they can rename the "Officials Registration" button to "Umpire Registration".
Added "More News" and "Latest Photo Gallery"
"League and Team sites now have a "More News" and "Latest Photo Gallery" section at the bottom of the main body. These update dynamically so there is no additional work needed for League Admins but gives the impression of more content to the site." Christie mentioned this feature was something they had wanted for some time.
Schedules and Calendars
"The League and Team Schedule pages were cleaned up and a full Calendar view was added to the league sites. The Schedule "List View" also prints nicely. iCal downloads are now available for the entire division and leagues."
Results Pages
"The League and Team Results pages were overhauled to be nicer looking and now include a more informative Game Summary page that can include box scores (baseball) and Team recap articles."
Standings Pages
"The League and Team Standings pages were cleaned up and look unbelievable." Christie added, "All column headers were given nice "mouseovers" so leagues get a long description of what each one means.
Statistics Pages
"The Team Statistics pages now are more easily readable and all column headers were given nice "mouseovers" for long descriptions of what each particular stat means. Each column is also sortable to get all of the statistic information you need."
Photo Albums
"The last of our updates was the League and Team photo albums. These went through one of the biggest transformations. There are thumbnails for galleries and thumbnails for each image. The slideshow is much quicker and now allows for users to download a particular picture to their computer."
Chris added that a lot of these new features and updates were a result of leagues making suggestions. He encourages all leagues to contact their support team and let their voices be heard.