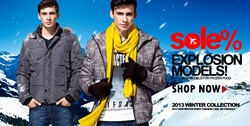 (PRWEB) December 24, 2013
Now, Skmen.com, a famous brand of women's special occasion dresses and men's high quality clothes, is providing winter discounts on all its fashionable clubwear dresses. Before the end of this month, all customers can enjoy the big discounts, up to 66% off.
At the company's online shop, a charming outfit is no more a luxury investment. The dresses from the company are perfect statements of fashion and individuality. What's more, the paying process is secure and convenient, which gives all consumers a piece of mind.
The clubwear dresses offered by Skmen.com can provide their wearers with bold contours and comfort. They are available in many popular styles like A-line gowns, sweetheart gowns, one-shoulder gowns, beading gowns and so on. All of them can be ordered online easily.
Last but not least, the company has a united team of talented designers who are always striving to create the best outfits. And the company's responsible workers check and double check each of its products, from sourcing to delivery. A lot of its outfits can help ladies to get more graceful and charming. Thus, the company's cheap, wonderful special occasion dresses are selling well in the global market and well appreciated by their purchasers.
About Skmen.com
Skmen.com, a China-based company founded in 2009, is one of the leading suppliers of men's and women's high quality clothes. It has more than 5000 customers from every part of the world, helping the people develop self-esteem, confidence and love of learning.
For more detailed information about Skmen.com and its various kinds of clothes, readers can visit http://www.skmen.com/product-sexy-clubwear-dress-003004009.aspx.