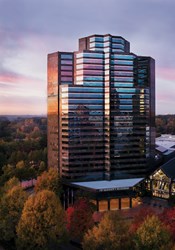 The JW Marriott brand provides a strong emphasis on health and wellness, from locally sourced and organic cuisine to our state-of-the-art fitness center
Atlanta, GA (PRWEB) December 27, 2013
PURE Solutions, the innovative provider of allergy-friendly hotel rooms, will install 18 new rooms at the JW Marriott Atlanta Buckhead, one of the premier, luxury hotels in the city. With the addition of these rooms, the JW Marriott continues striving to offer its guests an elegant and inviting atmosphere with superior amenities.
"The JW Marriott brand provides a strong emphasis on health and wellness, from locally sourced and organic cuisine to our state-of-the-art fitness center," said general manager, Mike Giamundo. "We believe PURE Rooms will enhance that experience for visitors to Buckhead."
PURE Rooms are treated according to a patented 7-step process that kills and protects against 98-100% of viruses, bacteria and other harmful surface and airborne irritants. PURE technology creates a hypoallergenic environment that is more comfortable for asthma and allergy-sufferers and also provides a more refreshing and rejuvenating hotel experience for all guests.
CEO of PURE Solutions, Brian Brault anticipates his company's hypoallergenic rooms will prove successful at the JW Marriott Atlanta Buckhead.
"Travel to a different city or another part of the country can be especially difficult for allergy-sufferers. The JW Marriott has gained a distinct advantage over area hotels by offering these rooms to its guests."
Situated in Atlanta's exclusive Buckhead neighborhood, the JW Marriott is a luxury hotel for both business and leisure travelers. The hotel is connected to the upscale Lennox Square Mall and proximate to all Atlanta area attractions, including the Georgia Aquarium, World of Coca-Cola, the Fernbank Museum and the Atlanta Botanical Gardens.
PURE Solutions installed the 18 allergy-friendly rooms on December 18th, making them available to guests shortly thereafter.
About PURE Solutions
PURE Solutions utilizes state-of-the-art purification technology to create allergy-friendly environments that are 98-100% free of viruses, bacteria and other harmful airborne particles. Each PURE Room is comprehensively treated to remove allergens and irritants from all hard surfaces, fabrics and air. To learn more about the PURE process and to book a room at one of their 300 partnering hotels nationwide, visit pureroom.com.
For more information about installing PURE Rooms at your hotel, please contact vice president of business development, Jeff Laster, at jlaster(at)pureroom(dot)com.
About JW Marriott Atlanta Buckhead
The JW Marriott Atlanta Buckhead is a luxury hotel in the heart of Atlanta's business, shopping and entertainment district for endless leisure activities and corporate pursuits. Connected to the Lennox Square Mall, the hotel epitomizes style and grace with personalized service and attention to detail. For more information and to reserve a room at the JW Marriott Atlanta Buckhead, please visit their website at http://www.marriott.com/hotels/travel/atljw-jw-marriott-atlanta-buckhead/