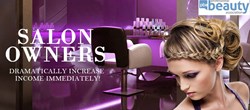 Salon Program Is Going On At Uniwigs.com
Chino Hills, CA (PRWEB) December 25, 2013
Uniwigs.com, a leading online wigs (along with flip in hair extensions and hair pieces) retailer, has been preparing for providing its service to the local salons so that almost every lady can get the most suitable products from uniwigs more conveniently and can enjoy the repairing service as soon as possible if necessary.
For salon owners, uniwigs.com has great resources with 6 big advantages including: over 1,000 styles of over 300 colors, 100% custom designs for customers, top quality semi-finished wigs, 100,000 ready-to-wear products, over 100,000 followers on its entire social media and free training courses on for all the salon members. Salon owners can enjoy salon prices up to 50% off on all the products on the site once they joined the salon program. In addition, all the resources mentioned above will be all salon owners' advantage to their business in the future.
Now, uniwigs provides a Kit Plan for all salons: with only $998 salon owners can get a showcase, professional training courses, color ring, combs, 3model heads, and several uniwigs hair products (package1 or package2). You are free to choose either of the two packages. Uniwigs is able to offer both ready-to-wear and semi-finished wigs, which could be processed in all textures and colors later at Salon depending upon clients' needs.
Therefore, uniwigs salon program is a big opportunity for salon owners to greatly expand business, improve skills of salon owner hairstylists and increase salon owner profit dramatically.
About Uniwigs.com
Has served customers in favor of wigs for many years, uniwigs now is the biggest wig brand online. With professional hair stylist teams and celebrity hair styles, uniwigs has become a well- known brand broadly recommended by hundreds of YouTube gurus and customers. Many pictures, videos and reviews are transmitted on Facebook, YouTube, and Twitter of uniwigs.