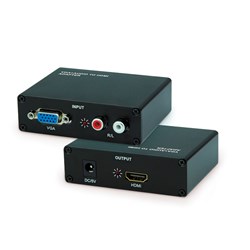 (PRWEB) December 25, 2013
Today, Hiconn Electronics, a distinguished electronic product manufacturer and retailer, has happily announced its special offer on VGA+R/L Audio to HDMI Converters from December 25, 2013 to January 15, 2014.
The VGA+R/L Audio to HDMI Converters from the experienced supplier come with these several outstanding characteristics: fine materials, meticulous production, excellent practicality, easy use and so on. They are available in several specifications. The CEO of the company says that all its products are user-friendly items.
Some detailed information about the company's VGA+R/L Audio to HDMI Converters is as follows:
--Model NO.: PACVGA0101
--Usage: Home TV, Car TV, Hotel TV
--Fast Delivery: SMT Machine Producer
--Export Markets: Global
--One VGA+R/L input signal converts to one HDMI sink devices
--Support video input: VGA analog
--Support audio input: R/L analog
--HDMI output: Support up to 1280x1024, same format as input
--Support CEC
--LED indication: When source or sink is working, LED relative to is light.
--Support output up to 20metres AWG26 cable length
--No loss of quality
--Installs in minutes
--Need DC5V/1A power supply
The company hopes that worldwide clients can enjoy the benefits it brings this time. Consumers can find the company's latest promotion at the company's homepage. Hiconn Electronics has promised to spare no energy to create more affordable high end products.
About Hiconn Electronics
Hiconn Electronics (Shenzhen Hiconn Electronics Co. Ltd.) is devoted to designing and manufacturing a wide range of connection cables and customized cable assemblies, offering many HDMI cables, VGA cables, SATA cables, USB cables, 1394 cables, DVI cables, SCSI (Small Computer System Interface) and more. For more information, please visit http://www.hiconn.net/.
Contact Person: James Yin (Sales Director)
Company Name: Shenzhen Hiconn Electronics Co., Ltd.
Address: Shenghua Building., Xixiang Road., Baoan District, Shenzhen, Guangdong Province, China
Zip Code: 518102
Tel: +86-755-8109 8345
Fax:+86-755-2779 3497