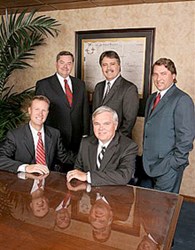 Nothing is foolproof, and, ultimately, you must keep an eye on your credit report to make sure your identity is not being misused. Once someone has stolen your identity, it can take months, or even years, to get everything sorted out
Tampa Bay, FL (PRWEB) December 26, 2013
Paul Meissner, Clearwater attorney and co-founder of the law firm Carlson, Meissner, Hart & Hayslett P.A., shared his opinion and tips to prevent being the victim of identity theft. Identity theft is causing financial nightmares for hundreds of thousands of people nationwide, and has been hitting communities throughout Florida particularly hard.
This is especially important this time of year as we do our holiday shopping using credit cards both on line and on the internet. As reported by Fox News on December 23, 2013, Target Corp. said Monday that the Department of Justice is now investigating the retailer's credit and debit card security breach, as federal lawsuits are starting to trickle in from customers around the country. The investigation comes after Target revealed last week that data connected to about 40 million credit and debit card accounts were stolen between Nov. 27 and Dec. 15. Security experts say it's the second-largest theft of card accounts in U.S. history, surpassed only by a scam that began in 2005 involving retailer TJX Cos. That affected at least 45.7 million card users.
Today, people give out personal information for various reasons, most necessary and justifiable - online purchases, medical forms or signing up for a new insurance policy. The use of personal information has completely permeated most of our society. While some people regularly share information on the internet to make purchases, others are much more hesitant.
According to the Consumer Sentinel Network, there were 69,795 complaints of identity theft filed in 2012. Since 2009, the highest number of identity theft complaints in the US come from Florida.
"While it's impossible to be one-hundred percent safe from identity theft, there are certainly measures which can be taken to minimize your chances of having your identity stolen," said Meissner. "This includes setting difficult passwords for accounts, not giving out personal information online unless you initiated the contact, shredding documents with personal information, and not carrying a lot of credit cards in your wallet if you don't have to."
Although these measures certainly help, it would not prevent thieves in institutions, such as the two convicted identity thieves who paid a respiratory therapist at South Miami Hospital for Social Security numbers. This is not a unique situation, and the result is that even the most diligent could be scammed, even when trusting a reputable institution.
"Nothing is foolproof, and, ultimately, you must keep an eye on your credit report to make sure your identity is not being misused. Once someone has stolen your identity, it can take months, or even years, to get everything sorted out," said Meissner.
About Carlson, Meissner, Hart & Hayslett , P.A.
The law firm of Carlson, Meissner, Hart & Hayslett P.A. was founded in 1971 by attorneys Ed Carlson and Paul Meissner. For more than four decades, they have been committed to protecting the injured and defending the accused. Their attorneys have established a solid reputation of case success throughout Florida, providing strong legal representation, easy accessibility and a high level of dependability. A client-centered approach ensures that clients know what is happening as their case progresses, and understand their options every step of the way. With a focus on personal injury, they help victims of auto accidents, slip and falls and wrongful death accidents. The firm is well-known for their innovative criminal defense work, defending both local and high-profile clients. Attorney and Partner Kevin Hayslett is widely recognized as The Attorney to the Stars, providing strong legal representation for notable celebrities and dignitaries throughout Florida. The firm also handles social security disability, workers compensation, divorce, family law and immigration cases. They offer free initial consultations and have five convenient Tampa Bay Area locations. Attorneys are available 24/7 for emergencies. Count on the legal team of Carlson, Meissner, Hart & Hayslett, P.A. to be there, fighting for you, protecting your rights. For more information or to schedule a consultation, call 877-728-9653 or visit their website at http://www.CarlsonMeissner.com.