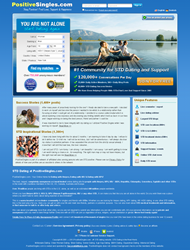 Los Angeles (PRWEB) December 25, 2013
PositiveSingles, the biggest and most popular dating site for people with sexually transmitted diseases, is pleased to announce the results of their latest poll. The site polled the female members over one month's time; from November 23, 2013 to December 23, 2013. The female members were given five celebrity weddings to choose from and they were asked to choose which one was their favorite and most admired. A total of 32316 women from the site joined in the poll and the results are finally tallied.
The most popular wedding in the PositiveSingles poll was Facebook founding president Sean Parker and singer-songwriter Alexandra Lenas' magical wedding with a total of 36.32% enjoying this wedding setting the most. Parker and Lenas enjoyed a $4,5 million magical wedding in the story-book forest surroundings of Big Sur, California. The theme of the wedding has been compared by many to the HBO show "Game of Thrones." Some of the female members of the dating site also compared it to Edward and Bella's wedding in "Breaking Dawn."
The wedding that came in second place, with 30.34% of the votes, was the wedding of Kate Bosworth and Michael Polish. Bosworth wore two dresses by Oscar de la Renta, while Polish suited up in Brooks Brothers. They exchanged Ocappi wedding rings during the ceremony. The four-day celebration was held at the Ranch at Rock Creek, which was chosen for its "privacy and rustic old-world charm." The paternal side of Polish's family is also from the area.
Coming in third place in PositiveSingle's latest poll on favorite celebrity weddings was Kelly Clarkson and Brandon Blackstock with 21.33%. They were married in Tennessee's Blackberry Farms. Clarkson wore a white lace wedding gown by Temperly London and held a bouquet of yellow sunflowers. The fourth place wedding belongs to Breaking Bad actor Aaron Paul and Lauren Parsekian's wedding with 12.01% of the vote. Paul and Parsekian were married at the Cottage Pavillion in Malibu, California.
Female members of the dating website for people with STD PositiveSingles voted on their favorite celebrity weddings from a choice of five. The results of the poll showed that most of the women from PositiveSingles loved Sean Parker and Alexandra Lenas' magical wedding in Big Sur, CA.