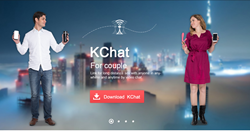 (PRWEB) December 24, 2013
On December 24th 2013, a UK company EFEELINK has launched a set of adult toys for long-distance lovers. With EFEELINK's products, the lovers are no longer lonely this Christmas.
It is known that EFEELINK products are divided into two parts, one is for men, the other is for women. Holding the appropriate internet enabled sex toys, two lovers can remote control each other. And with real-time HD video, they can enjoy the intimate time face to face. They can have a strong sense of reality through the real-time HD video as well. In the process of using, the man just needs to increase the action; the woman, separated by thousands of miles, can feel a strong tremor. This happens as if the two lovers stayed together.
Based on a senior manager of EFEELINK, Barack and Michelle are a good case that EFEELINK's products have brought much joy for long-distance lovers.
Barack, a student from Birmingham University, is going to spend his second Christmas in America. His girlfriend, Michelle, is a girl who stays in Germany.
Barack has bought EFEELINK products, and sent Amanda (a smart vibrator for woman) to Michelle. The lovers can be connected by smart phone via Bluetooth with each other, and they can see each other in the video, which made them very happy.
Barack is excited to talk about EFEELINK, saying, "I remembered during the last Christmas, the campus was full of joy, which made me feel more lonely. I missed Michelle very much, and at the Christmas Eve, I stayed in the dormitory and called her overnight. I thought a long distance relationship was very hard for lovers, especially during holidays. But it turned around last month, when I heard that EFEELINK's adult toys could help the separated lovers realize remote sex."
About EFEELINK
EFEELINK, a UK company, is devoted to designing and creating innovative adult products based on modern science and technology. The company wants to help its clients worldwide find the right high-quality products to meet their individual desires. Visit http://www.efeelink.com/ for more details.
Follow EFEELINK at:
FACEBOOK: http://www.facebook.com/efeelink
TWITTER: http://twitter.com/efeelink