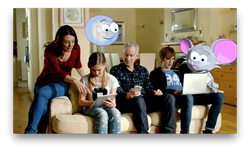 Windsor, Berkshire (PRWEB UK) 24 December 2013
Tennis legend John McEnroe is the face of a new advertising campaign by UK gadget insurer Protect Your Bubble to promote Family Gadget Insurance, a new family-friendly product aimed at the over 35s market.
Cries of "You cannot be serious!" will be heard across the nation's TV screens from Christmas Eve, when a new 30-second advert with John McEnroe and his fictional family airs for the first time on more than 40 UK TV channels, terrestrial and digital.
The advertising campaign, which runs every day throughout the festive period and into 2014, is aimed at people over 35 to highlight Protect Your Bubble's new £15.99* a month, multi-device, Family Gadget Insurance product.
The fun advert sees Squeak, one of Protect Your Bubble's brand characters, playing a computer game at home with the daughter of John's fictional family. When Squeak takes a shot on the computer game and accidentally knocks John's smartphone into his wife's pot of soup, John screams out the immortal line: "You cannot be serious!"
Alongside the John McEnroe advert, a separate 30-second advert featuring The Gadget Show's Jason Bradbury will also air for the first time on Christmas Eve, aimed at the 18-34 year old market. In this ad, Jason is at a skate park with Squeak again. Squeak performs a trick, and accidentally knocks the phone out of Jason's hand. There will also be two additional 10-second ads featuring Jason Bradbury running over Christmas and into the New Year.
The John McEnroe advert will be available to view on YouTube as will an album of photos from the film shoot on Protect Your Bubble's Google+ pages.
Stephen Ebbett, director of Protect Your Bubble, comments: "As a parent John knows how accident-prone youngsters can be with their gadgets, and replacing a damaged handset or tablet is a regular and unavoidable occurrence.
"It was a real coup when John agreed to front our latest advertising campaign. John was a great sport throughout the film shoot. He continues to have a place in the hearts of the UK public and hopefully this advert will make families smile over the festive period, while at the same time promoting our new family gadget insurance product.
"This all-in-one policy is perfect for parents who may have purchased expensive tech devices for their children over Christmas. Family Gadget Insurance will hopefully make the problem of covering a house full of gadgets much less complicated and hassle-free."
— ENDS —
About Protect Your Bubble: Online insurer Protect Your Bubble offers comprehensive cover at fantastic prices. Its expanding product range includes great value insurance for gadgets, pets, bicycles travel, car hire and cosmetic damage to cars.

Protect Your Bubble's Family Gadget Insurance product costs £15.99 a month, covers any four gadgets and just £3 for each additional gadget, and ensures gadget protection against accidental damage, theft and breakdown, with loss cover as an optional extra.
For more information about Protect Your Bubble's Family Gadget Insurance policy, visit the following link: http://uk.protectyourbubble.com/family-gadget-insurance.
The adverts are available to view on the Protect Your Bubble YouTube Channel.