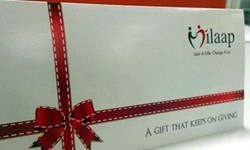 "Giving of any kind... taking an action... begins the process of change, and moves us to remember that we are part of a much greater universe. "― Mbali Creazzo
(PRWEB) December 26, 2013
The holiday season is here again and Milaap, an Indian online fundraising platform, has the perfect gift for this season – Milaap gift cards. These $25 dollar cards allow people to make a loan towards a cause that is dear to them.
With Christmas and New Year, the spirit of giving and goodwill is high at this time of the year. While people frantically look around for the perfect gifting option, Milaap feels that this gift will prove to be one. It will enable people to empower someone who needs a hand, to transform their life completely.
Milaap works in five sectors– education, enterprise, energy, sanitation and water. They act as a crowd-funding platform and allow lenders from all over the world to make a loan to a borrower of their choice. With a gift card, a person is effectively enabling a friend, colleague or family member to experience the feeling of being able to change someone's future. Since it's a loan, it gets repaid and the same amount can be used to help another borrower.
Deepti Lewis, a lender on Milaap, spoke to us about her gift card experience. She said, "I feel Milaap cards are one of the best ways to show that you not only care about the person you are gifting it to, but also, ensuring that you spread the joy to others in need. If you would like to give a meaningful gift to someone, I can't think of a better option than the Milaap gift cards."
So far, Milaap has raised over $9,70,000 and has impacted over 36,000 lives. Each loan recipient will follow Milaap's basic principle of "A hand-up and not a hand-out", and will repay the loan in 12-36 months.