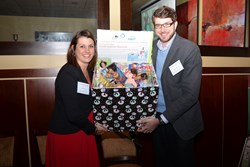 Houston, TX (PRWEB) December 25, 2013
John Daugherty, Realtors Relocation Director Tess Chaney, along with Relocation & Referral Coordinator Ryan Nussbaum, attended the Houston Relocation Professionals Holiday Social Event at Sullivan's Steakhouse. But they didn't attend empty handed. They brought with them a box full of unwrapped gifts and toys collected at John Daugherty, Realtors for Candlelighters Houston.
"We are privileged to team up with Houston Relocation Professionals and Candlelighters this Holiday Season to warm the hearts of children and families who have been affected by cancer. This year we have had an overwhelming response from our sales associates and staff in participation of the toy drive. It is always a joy to support this wonderful cause," says Tess Chaney, Relocation Director for John Daugherty, Realtors.
Candlelighters Mission: Candlelighters Childhood Cancer Family Alliance provides emotional, educational and practical support to families of children with cancer.
Candlelighters serves all children with cancer and their families, long term survivors of childhood cancer, adult survivors of childhood cancer and their families, and bereaved families treated at The University of Texas MD Anderson Cancer Center Children's Cancer Hospital and Texas Children's Cancer Center. There are no fees charged for any services provided by Candlelighters.
Candlelighters partners with families and shares their journey as they battle the disease and the tremendous financial burden they inherit immediately upon diagnosis.