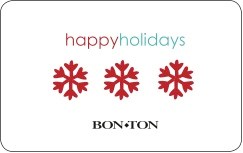 Milwaukee, WI (PRWEB) December 26, 2013
The Bon-Ton Stores, Inc. (NASDAQ: BONT), which includes Bon-Ton, Boston Store, Bergner's, Carson's, Elder-Beerman, Herberger's and Younkers stores announces its first ever Gift Card New Year promotion. In celebration of the holiday Bon-Ton will offer all customers who redeem a Bon-Ton gift card in our store on New Year's Day an exclusive discount of an extra 10% off purchases on nearly everything in the store. Shoppers can stack their savings and will receive the discount in addition to other available coupons & savings offers during the big New Year's Sale event. Gift cards may also be purchased and used in-store on Wednesday, January 1. Most stores are open from 10:00 AM-7:00 PM. Customers can access the New Year's coupons and savings offers on January 1 at bonton.com by clicking on Today's Ad or by downloading the Bon-Ton mobile app. Customers can ask a sales associate for complete details.
About The Bon-Ton Stores, Inc.
The Bon-Ton Stores, Inc., with corporate headquarters in York, Pennsylvania and Milwaukee, Wisconsin, operates 273 department stores, which includes 10 furniture galleries, in 25 states in the Northeast, Midwest and upper Great Plains under the Bon-Ton, Bergner's, Boston Store, Carson's, Elder-Beerman, Herberger's and Younkers nameplates. The stores offer a broad assortment of national and private brand fashion apparel and accessories for women, men and children, as well as cosmetics and home furnishings. For further information, please visit the investor relations section of the Company's website at http://investors.bonton.com. Learn more at Facebook.com/BonTon, Instagram.com/BonTonStyle and Twitter.com/BonTon.