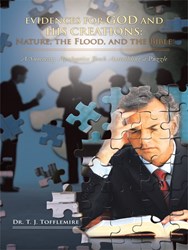 Prov. 22:6 "Teach a youth about the way he should go: even when he is old, he will not depart from it."
Jacksonville, Fl (PRWEB) December 27, 2013
The book is great for Christian witnessing to skeptics and nonbelievers. It provides resources for Christian schools and church school classes on apologetics. One's faith will be strengthened and deepened by studying apologetics by reading this concise book. The book is unique in that over 200 references are covered including over 100 books. For many of these books, summaries are available on the web site http://creationapologetics.net. So one can find, in one place, the summaries of many different authors' views and books on apologetics, world views and creation. The book documents the worldwide flood and the truth of the Bible. It also provides good arguments to counter naturalism, atheism and other non-Christian world views. The book is also unique in that it considers all creation views and compares them.
The book is about 205 pages and is available in soft cover, hard cover and ebook from Author House. Dr. Tofflemire was an engineer and research scientist for 40 yrs. He wrote over scientific 50 publications in various media and technical journals. He has a Masters in Christian Ministry. The book is now available in the Urdu language.