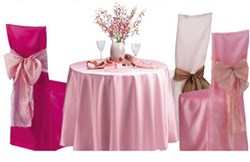 New York, NY (PRWEB) December 26, 2013
Table Cloth Factory is a leading online retailer for table cloths, chair covers, linen napkins, table skirts and more. Consumers can enjoy shopping for residential, commercial and banquet-style tablecloths in either standard or custom sizes. Because they are now offering such a wide variety of sophisticated fabrics in a number of colors and styles, customers will find it easier than ever to find a product that complements their décor or theme perfectly.
Residential shoppers can turn to Table Cloth Factory for linen tablecloths that aren't available in big box stores. Because of the wide range of fabrics and colors, their inventory caters to virtually any existing home décor. Table cloths are fantastic for the home simply because they offer an extra layer of protection while adding a pop of color or patterning. Additionally, many fabrics are machine washable which makes clean up simple and quick.
For customers buying on a wholesale or commercial level, the linen tablecloths offered through Table Cloth Factory will give them a wide selection of options that look and feel designer. When shopping for a banquet hall or event space, many clients will consider the quality and selection of the linens offered. By stocking inventory with surface coverings from Table Cloth Factory, many event planners have been able to improve the reputation of their business.
A custom tablecloth is virtually impossible to find in a standard retail setting, but Table Cloth Factory has made it simple to order a number of customized products. Whether it's a tablecloth for a small dinette table or a digitally printed linen tablecloth for a convention, their product range spans from table skirting to coasters – all with customization options. Additionally, they utilize high quality materials to ensure a product that's looks and feels professional.
Whether it's a residential dining room table or a banquet hall, tables come in a variety of shapes and sizes that can be difficult to fit. Leaving a table uncovered will not only create an unprofessional look, but can leave the surface more susceptible to damage from heat, water, scratches and more. A linen tablecloth offers a practical way to not only enhance the look of the space, but also protect the table from damage. Table Cloth Factory allows consumers to do both of these things with a surface covering that rivals the look and quality of a designer linen.
Table Cloth Factory provides swatches to homeowners and event planners who are interested in personally viewing a fabric prior to ordering standard or custom tablecloths. Consumers no longer have to limit themselves to the poor quality and limited selection found in local retail stores. Thanks to Table Cloth Factory, unique and even customized pieces can be easily ordered and shipped promptly. Ideal for special events or just every day dining, sophisticated and designer-style table linens provide an ideal way to enhance the look and feel of any dining or banquet space.