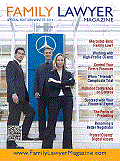 (PRWEB) December 30, 2013
A special print edition of Family Lawyer Magazine is being distributed to family law attorneys now, and a PDF version is also available for free download. This special edition of Family Lawyer Magazine has a focus on helping family lawyers across the U.S. excel in their practice and keep up with the competition. Over 9,000 copies of the 48-page print edition are being mailed to fellows of the American Academy of Matrimonial Lawyers across the U.S., and will be made available at family lawyer conferences. The even longer 67-page PDF version is being distributed to over 27,000 divorce professionals, and it is available for free download on http://www.FamilyLawyerMagazine.com.
Offering a dynamic range of relevant, topical and expert crafted content, the current roster of contributors include renowned family lawyers, private investigators, practice advisors, marketing specialists, valuators, accountants, QDRO experts and other top professionals from across the country.
"Having travelled extensively this year and met with many family lawyers across the U.S., I kept encountering a familiar and consistent theme: that of keeping up. Many of the family lawyers I had the pleasure of visiting were running to keep up with the changing court system, with technology, with their clients' demands, and running to keep up with their competition – who are promoting and marketing their practices more aggressively than ever," says Family Lawyer Magazine Publisher, Dan Couvrette. "In short, these meetings served as the nucleus for the theme of this issue of Family Lawyer Magazine."
Some of the articles featured in this issue of Family Lawyer Magazine are:
Client Relations:
When High-Profile Clients Come Knocking
Managing Your Firm:
Gain Control of Your Firm's Finances with a Financial Dashboard
Practice Management:
A Mercedes-Benz Family Law Division?
Ethics:
When "Friends" Complicate Trials
Evidence:
How to Succeed with Your Financial Expert in Court
Continuing Education:
Becoming a Better Negotiator
Technology:
The Future of Law: Focus on Mobility
Pensions and QDROs:
3 Common Pitfalls in the Formulation of QDROs
Financial Planning:
Client's Irrational Choices and Their Cognitive Processes in Financial Decisions
Valuation:
Standard of Value for Marital Dissolutions
http://www.FamilyLawyerMagazine.com has been online since 2011 and has hundreds of pages of articles and resources from family law attorneys and divorce processionals across the U.S. The site is accessible to any family lawyer or divorce professional who is seeking the latest on all things family law, and they are encouraged to comment on any of the articles.
Family lawyers and other divorce professionals are also invited to submit articles to Family Lawyer Magazine by contacting our Editor, John Matias: john@divorcemarketinggroup.com
About Family Lawyer Magazine
Family Lawyer Magazine is published by Divorce Marketing Group, the only marketing agency dedicated to helping family lawyers and divorce professionals grow their practices. We also own and publish Divorce Magazine and http://www.DivorceMagazine.com which help divorcing people achieve a peaceful divorce. Learn more at http://www.DivorceMarketingGroup.com. For more information, contact the publisher Dan Couvrette at (866) 803-6667 ext. 124 or email DanC(at)DivorceMarketingGroup(dot)com.