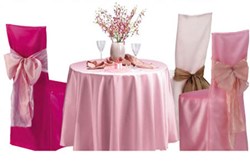 New York, NY (PRWEB) December 26, 2013
As a leading provider of dining room linens, Table Cloth Factory has taken another step towards ensuring they are a one-stop-shop for event planners. By offering customizable products, any size table, buffet or chair can be easily accommodated with the colors and styles of the planner's choosing.
Table Cloths are traditionally offered in a few different fabrics. For traditional settings, most people tend to prefer lace or patterned polyester. In more modern décor schemes, designers tend to lean towards silk or simplistic polyesters. In banquet settings, it's common for a plain white tablecloth to be paired with a silk or lace overlay. This type of layering look is very common with weddings or other large dinner events where tables may be ornately decorated.
The linen tablecloths offered through Table Cloth Factory feature materials such as cotton, polyester, nylon and more. They are also offered in a number of different colors and patterns which can be customized when ordering. For event planners who need to cater to a unique color scheme or theme, the option to choose from over ten hues on certain products can be incredibly convenient.
A linen tablecloth can also come into play in a convention or business event setting. Entertaining comes in all shapes and sizes, and in these scenarios, people are generally interested in attracting attention to their space while keeping visitors happy and entertained. A custom printed linen tablecloth is an ideal way to tout a company logo or slogan, and they are becoming increasingly popular at trade shows, conventions and business networking events. While this may not seem like traditional entertaining, putting together an effective and informative space requires event planning skills.
Table Cloth Factory is capable of digitally printing logos, slogans and other designs onto tablecloths for business or commercial use. These linen tablecloths can also be made with water resistant materials to ensure that the printed section will not smudge or run should an accident occur during the event or during transport. This element also makes them ideal for outdoor displays which is another growing trend in the tradeshow industry.
Chair sashes are another important element of creating a beautiful dining space. Designers are using these items to add pops of color, pattern and interesting textures to otherwise generic spaces. These products are used in events ranging from weddings to birthday parties, and chair covers with sashes can instantly transform dull, unattractive chairs into beautiful décor pieces. Table Cloth Factory offers both standard and customizable sashes in organza, polyester, and taffeta. Their inventory is ideal for event planners who need a wide range of styles in their portfolio to present to clients.
Whether customers are professional event planners or occasionally put on an event for their family or business, high quality linens for tables and chairs are an essential element of creating an elegant, professional look.