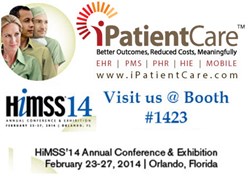 iPatientCare is one of the only few national level EHR vendors who can boast of having both – Ambulatory and Inpatient EHR software - certified for the MU2 also ICD-10 ready, - Kedar Mehta, CTO, iPatientCare
Woodbridge, NJ (PRWEB) December 26, 2013
iPatientCare, Inc., a pioneer in mHealth and cloud based ambulatory EHR, integrated Practice Management and Patient Portal solutions, announced to demonstrate the Meaningful Use stage 2 Certified and ICD-10 Ready EHR and integrated PMS, Patient Portal and HISP at HIMSS 14 Annual Conference at the Orlando, Florida, February 23-27, 2014. iPatientCare also announced unveiling value-added services of Revenue Cycle Management, Meaningful Use-MUPlus, and RegistryPlus that would help physicians and their colleagues with complete or modular billing services, MU attestation/audit, and submission of quality data to various registries, such as, PQRS, PCMH etc.
"Growth of iPatientCare as a national level vendor and thought leader in inpatient and outpatient health record segment comes from not only its Awards-winning, SaaS product suite but from the value-added services we offer. iPatientCare's value-adds for Revenue Cycle Management, Meaningful Use attestation and audit support, and generation and submission of quality reports to various registries set iPatientCare apart from small, typical software vendors," said Udayan Mandavia, President/CEO, iPatientCare.
Kedar Mehta, CTO, iPatientCare added further, "iPatientCare is one of the only few national level EHR vendors who can boast of having both – Ambulatory and Inpatient EHR software - certified for the Meaningful Use Stage 2 (2014 Edition) and also ICD-10 ready for implementation."
"iPatientCare HISP is a path-breaking product with robust implementation of the Direct Project and it facilitates electronic Transmission of Care among Care Providers and between iPatientCare providers and their patients. Again, iPatientCare HISP is a generic B2B product that can serve any provider and/or EHR vendor," commented Shripal Shah, Senior Technology Officer, iPatientCare.
At the conference, iPatientCare will demonstrate Meaningful Use Stage 2 certified EHR and integrated practice management system, Patient Portal and iPatientCare HISP that will provide integrated Direct mail capabilities to all iPatientCare EHR users. iPatientCare also will exhibit miPatientCare, a native iPad based full-featured EHR and unveil Revenue Cycle Management and other value-added services.
"As a company with a long legacy of unwavering commitment to making quality health care accessible to all, iPatientCare is dedicated to supporting its customers with transition to ICD-10. Visit iPatientCare Booth # 1423 to discuss partnership relationships and strategic growth opportunities," said Vipul Patel, Senior Technology Officer, iPatientCare.
About iPatientCare:
iPatientCare, Inc. is a privately held medical informatics company based at Woodbridge, New Jersey. The company is known for its pioneering contribution to mHealth and Cloud based unified product suite that include Electronic Health/Medical Record and integrated Practice Management/Billing System, Patient Portal/PHR, Health Information Exchange (HIE), and mobile point-of-care solutions that serve the ambulatory, acute/sub acute, emergency and home health market segments.
iPatientCare EHR 2014 (2.0) has received 2014 Edition Ambulatory Complete EHR certification by ICSA Labs, an Office of the National Coordinator-Authorized Certification Body (ONC-ACB), in accordance with the applicable eligible professional certification criteria adopted by the Secretary of Health and Human Services (HHS).
Full certification details can be found at ONC Certified Health IT Product List.
The ONC 2014 Edition criteria support both Stage 1 and 2 Meaningful Use measures required to qualify eligible providers and hospitals for funding under the American Recovery and Reinvestment Act (ARRA).
The company has won numerous awards for its EHR technology and is recognized as an innovator in the field, being a pioneer to offer an EHR technology on a handheld device, an innovative First Responder technology to the US Army for its Theatre Medical Information System, the first to offer a Cloud based EHR product. iPatientCare is recognized as one of the best EHR and Integrated PM System for small and medium sized physicians' offices; has been awarded most number of industry Awards; and has been recognized as a preferred/MU partner by numerous Regional Extension Centers (REC), hospitals/health systems, and academies.
Visit http://www.iPatientCare.com for more information.
About Himss 2014:
HIMSS is a global, cause-based, not-for-profit organization focused on better health through information technology (IT). HIMSS leads efforts to optimize health engagements and care outcomes using information technology.
Visit http://www.himssconference.org/ for more information about Himss14.