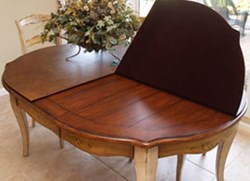 New York, NY (PRWEB) December 30, 2013
Table Pad Factory offers a wide selection of table pads that can be customized to fit unique items, non-standard measurements and odd shapes. By creating each order as it comes in, they ensure full customization since there is no pre-made stock. Every consumer is searching for a better, easier way to make their dining furniture, buffets, kitchenettes and other important surfaces last longer. Thanks to custom table pads, that solution is more convenient than ever.
Replacing a table because of an unsightly scratch is something that thousands of consumers do every single year. Heat and water tend to be the main culprits for causing damage, but a number of things can change a valuable investment into a piece of glorified garbage. Pianos, serving tables, pool tables and much more are susceptible to wood-related accidents when a high quality tablepad is not in place.
Table pads that are purchased through Table Pad Factory are designed in a way that makes them virtually invisible. Consumers are given the ability to choose their color and style to ensure a seamless blend. Woodgrain options are also available for those who would like to maintain the natural finish of a beautiful oak, cherry or mahogany table. Whether the table itself is round, oblong, rectangular or even boat shaped, customers have the luxury of choosing from a wide range of customization options.
Extra leaves are also available for those who need to protect their tables regardless of how many will be seated. Up to 10 leaves can be added to orders, making ordering simple and convenient. Table Pad Factory also offers a standard shipping rate of $29 on most orders (exclusions do apply), and they also offer shipping outside of the United States for an increased fee.
Table pads are also heat resistant, making it easier for users to serve guests with confidence. Table pads are ideal for buffets and serving stations for this reason, and they're utilized by many banquet establishments thanks to their durability and quality. For those who enjoy entertaining, a high quality table and serving station is a fantastic investment. By adding custom table pads to these items, those who enjoy entertaining will never need to hesitate when setting down a hot plate, pan or bowl ever again.
By utilizing high quality materials, tablepads from Table Pad Factory look and feel high quality. Unlike other surface protection products, they're both beautiful AND practical, making them ideal for even elegant dining settings. Additionally, we offer products known as "table paddies" which are ideal for individual place settings, and will last for years.
Refinishing a table can be a very costly task, not to mention a fairly complicated one. Whether customers are looking for surface protection for their home, office, restaurant or kitchen, Table Pad Factory offers a wide selection of customized items that are practical, durable and beautiful. And on top of that, each table pad comes standard with a lifetime warranty and magnetic locking system to ensure continued dependability both now and into the future.