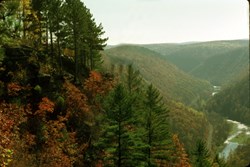 Wellsboro, PA (PRWEB) January 08, 2014
A reflection upon the 2013 event calendar for Tioga County, PA—an area nestled in the Northern Tier of Pennsylvania—shows milestone anniversaries, performing arts premieres, and endurance challenges amidst four seasons of breathtaking scenery. From the world premiere of "SMILE: A Country Rock Musical" in February to the inaugural PA Grand Canyon Marathon in July, 2013 packed a punch in drawing individuals from more than 20 states and abroad to area events and attractions. While precedence has been set for 2014, the following events are sure to make many memorable experiences during this year.
Music to Your Ears
The Endless Mountain Winter Jazz Fest returns January 17 through January 19, 2014 and brings award-winning musicians to the area for the 4th consecutive year. Featuring acts such as jazz pianist Bram Wijnands and the Terry Klinefelter Trio at various performance venues in Wellsboro, more information and tickets can be found at http://www.endlessmountain.net.
The Deane Center for the Performing Arts rounds out its' premiere season with potty-mouth girl band Reformed Whores, who struggle to clean up their act in this adult-only performance on February 7 at 8 p.m. Go to http://deanecenter.com for more information.
Wellsboro Community Concert Association's 66th season draws to a close in Spring 2014 with Andrew and Noah Band on Friday, March 14 and Duquesne University's Tamburitzans on Saturday, April 5. Performances are held at the Wellsboro Area High School. Tickets and show information can be found at http://wellsborocca.org, and check back later in 2014 for details on their 67th season (Fall 2014 to Spring 2015.)
The Manhattan Dolls conclude the Deane Center for the Performing Arts' premiere season with "Rockin' with the Dolls, a '50's/60's Revue" on May 9 at 8 p.m. Visit the Deane Center's website for more information.
A new event for this year, Bleecker Week (May 11 through May 18), makes its way to the Deane Center for the Performing Arts. Named for NYC-based company Bleecker Productions ("SMILE: A Country Rock Musical"), the troupe returns to Wellsboro to perform "Streetcar Named Desire" May 15-17 (Thursday through Saturday). More information on this event can be found at the Deane Center's website.
The Endless Mountain Music Festival returns for its ninth year in 2014, hosting a variety of performances throughout Tioga and Bradford Counties in PA and select New York locations. Visit the Endless Mountain Music Festival's website for more information, or call the box office at 570-787-7800.
Down to Earth Celebrations
Want to add more "get out and go" to your schedule in 2014? Tioga County is home to the Pennsylvania Grand Canyon, seven lakes, hiking for all ages and abilities, and the Pine Creek Rail Trail, providing year round opportunities to tap into these natural wonders. Many local organizations also provide free events in conjunction with the seasons, such as the Winter Outing Series and Spring Outing Series by Step Outdoors Network (http://www.stepoutdoors.org). These events provide free admission, free equipment rental (while supplies last), and are perfect for all ages. Visit their website for a complete schedule of events.
Earth Day at Mill Cove showcases outdoor activities such as hiking, fishing, and target practice at the Mill Cove Environmental Area on Saturday, April 19. Learn about natural resources and conservation as you participate in hands-on learning experiences. More information on this year's festivities will be available soon at http://www.millcovearea.org.
Enduring Friendly Competition
From paddling, bicycling and footraces, Tioga County is the starting point or feature in a wide variety of endurance challenges. Whether you're a beginner or just looking for a change of scenery, try one of these competitions:
Returning to the area in 2014 is the PA Grand Canyon Marathon on Sunday, July 27; this race is a Boston Qualifier and is capped at 300 runners. If you're not ready for that full marathon experience yet, don't sweat it: try out the inaugural PA Grand Canyon Half-Marathon on Saturday, July 26. Both races feature a 7 a.m. shotgun start and additional information can be found at http://pagrandcanyonmarathon.com.
Another new endurance challenge for this year is the Eastern States 100, of which nearly 12 miles snakes its way through southern Tioga County. This much anticipated event, set for August 16, already has full registration but a waiting list and additional information is available at http://easternstates100.com.
If you prefer to conquer the trails on two wheels instead of two feet, don't miss the Laurel Classic Mountain Bike Challenge, coming in September. Now in its 13th year, this challenge provides riders with a Beginner level course and a Sport/Expert course, featuring creek crossings, log crossings and, for the Sport and Expert classes only, the infamous Stinger downhill trail. You can read more about this challenge at http://www.twistedspokes.org.
Enjoy a mix of activities and camaraderie at the Step Outdoors Tryathlon, slated for Saturday, September 14 at Hills Creek State Park. This event includes running 3.1 miles around the lake, paddling 1.75 miles, and bicycling 8 miles. You can complete the course on your own or form a team with two friends—remember, it's about trying, not winning. Step Outdoors also coordinates the Ives Run Trail Challenge, held each October at the Ives Run Recreation Area. This event utilizes three trails in the area: the Lynn Keller, the Stephenhouse, and the Archery Trails; take on the event running or walking. More information on both of these challenges can be found at http://www.stepoutdoors.org.
Ultra marathons are also making a comeback in 2014. Accept the challenge—the Pine Creek Challenge, that is--where competitors choose a 100mi or 100km course on the scenic Pine Creek Rail Trail September 6 through September 7; details can be found at http://www.pinecreekchallenge.com. Next up is the Green Monster 25K/50K Trail Challenge, regarded as "One Ugly Mountain Race," on Sunday, October 14. Challengers can choose a 7 a.m. start for the 50K race or opt to get a few more minutes of sleep before the 25K race starts at 9:30 a.m. (go to http://www.greenmonster-trailchallenge.com for more information).
Continuing Traditions
Have you ever attended the PA State Laurel Festival, Dickens of a Christmas, or Fabulous 1890's weekend? If the answer is "no," make sure that you come to Tioga County in 2014 to experience one of our many fairs and festivals that draw crowds from all over the globe.
Tioga County is home to a number of firsts, such as the world's first electrified coal mine in Landrus. While coal mining is no longer an industry in the county, its heritage is celebrated at the Blossburg State Coal Festival each May. Highlights include the coal museum, a car show, and a parade. Go to http://blossburgstatecoalfestival.com/ for a history of the industry in Tioga County and event information.
The Liberty Blockhouse Festival, held in June also celebrates the founding of the town of Liberty and is held each June; more information can be found on the town's website, http://liberty-pa.com/festival.html.
The 73rd Annual PA State Laurel Festival is June 14 through June 22 and includes a juried arts and crafts show, a week-long events schedule, and the Laurel Festival Parade. More information on this annual favorite can be found at http://www.wellsboropa.com.
Local heritage is also kept alive during the Tioga County Fair, featuring livestock shows, a variety of exhibits showcasing local talent, and live entertainment. For a schedule of the week-long events, go to http://www.tiogacountyfair.com.
Mansfield is home to the world's first night football game, held between Mansfield Seminary and Wyoming Seminary in 1892 (Mansfield University of Pennsylvania didn't have night football again until 2013.) While night football will be more common with the recent additions to the football stadium, the original game is celebrated in a reenactment during Fabulous 1890's weekend, an annual event that will mark its' 22nd Anniversary in 2014 during the weekend of September 27-28. Find out more at http://1890sweekend.com, and if you're an MU alumnus mark your calendars—Homecoming also takes place this weekend.
Dedicated to "Keeping the Past Alive," Tioga County Early Days highlights include displays of yesteryear's farming equipment, tractor pulls, live entertainment, and a variety of food and craft vendors. Spectators can attend the event for a $2 donation, or choose to camp for the weekend at a reasonable price. For more information, please call 570-659-5228.
Wellsboro's 31st Annual Dickens of a Christmas is scheduled for December 6 and includes juried arts and crafts fair, performances by local groups and Dickens actors and actresses, and a tree lighting ceremony at The Green, one of Wellsboro's most popular meeting places. Information can be found on the Wellsboro Area Chamber of Commerce's website or by calling 570-724-1926.
Mansfield's Home for the Holidays also takes place in December. Featuring a 5K, craft and vendor fair, and a variety of children's activities, a complete schedule can be found at http://www.mansfield.org later this year.
Ready to start planning your trip? Go to the Tioga County Visitors Bureau's website at the bottom of this article for more information on these events, local attractions, and lodging and dining options.