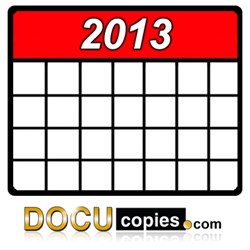 With the West Coast locked down, expanding to the east may be the final frontier.
San Luis Obispo, CA (PRWEB) December 30, 2013
In keeping with tradition, this week the online color printing company Docucopies.com published a list of changes their company underwent in the last year as well as predictions for the next year.
Among their endeavors in 2013 are:

Product expansions: Presentation folders, sheet labels, door hangers, notepads, bookmarks, greeting cards, additional sizes for envelopes and postcards (including EDDM-compliant postcard sizes)
User-friendly website upgrades: Order forms offer more options, such as VDP/numbering, shrink wrapping, and multiple variations of postcards/business cards on a single cart items.
Shorter delivery times: All of the country now gets 3-day delivery or less.
Web-based design software: Their newly launched design platform lets customers design business cards, postcards, calendars and envelopes right on the website.
The workforce at Docucopies West nearly doubled, as the owner and his family recently moved from the Midwest to San Luis Obispo, Calif., where the West Coast production facility is located. The California facility grew its business and began serving a larger region, which led to them outgrowing their shell. They recently signed a lease on a larger building and will be moving their operations to the new location in the coming months. This will allow them to further expand their business.
Docucopies.com also proudly sponsored Team Emily Brown, the women's curling team who recently advanced to become Team USA for Women's Curling in the 2014 Winter Olympics.
In 2014, Docucopies.com expect continued growth in the west, as their new space will allow them to increase production volume as well as expand their service areas. This will in turn allow the Midwest facility to focus their attention to the east and southeast until the time is right to open another production facility somewhere on the East Coast.
"It's not so much a matter of 'if' as it is a question of 'when,'" says Jeff Corbo, vice president and director of marketing. "With the West Coast locked down, expanding to the east may be the final frontier."
For more information on Docucopies.com and their wide range of digital color printing services, including brochures, books, booklets, postcards, envelopes, business cards, bookmarks, flyers, and more, visit them online at http://www.Docucopies.com.