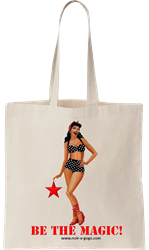 Noir A-Go Go putting the black in the magic that is 50s Americana!
New York, NY (PRWEB) January 02, 2014
As the New Year launches, amidst the confetti, streamers, and noisemakers are glamorous, witty, and original new products from Noir A-Go Go!
In the 2014, Noir A-Go Go, the world's only online store to offer Black Pinup Girl-themed gifts and accessories, is poised to introduce new pinups and old friends on such products as their immensely popular magnets, elegant, one-of-a-kind compact mirrors, and eco-friendly tote bags.
"We've hired an artist who has created four new images for us," says owner K.C. Washington. "They are stunning and truly represent the idea and the spirit of Noir A-Go Go," added Washington, who is also in charge of concept and design.
These images, which range from sexy, come-hither pinups and bold, take-charge dames, to bikini-clad sex kittens, will be added to the catalog throughout the year.
The company is entering its fourth year and intends to up-the-ante in the gift and accessory field. The type of products, such as greeting cards, Post Its, and bandanas are not new to the industry but Noir A-Go Go's focus is.
"We're continuing our tradition of putting a sepia spin on the beloved pinup genre with our African American Pinup Girls," says Washington, "but we also plan on offering unique items like hair accessories and coasters with fun, original and culturally specific sayings."
Although the products and the images are expanding, Washington and Noir A-Go Go promise that they will be true to their mission statement, which simply put is to: Put the black in the magic that is 50s Americana!
About Owner and Designer K.C. Washington
K.C. launched Noir A-Go Go in January 2011, with the idea that something was missing within the American pinup girl genre, namely women of color. So she decided to put what she calls a sepia spin on the beloved genre and Noir A-Go Go was born. Convinced that the world is more than familiar with the image of African Americans fighting for their rights during the Civil Rights era, she wants to show another image from that time---one of glamour and wit. A Mellon Fellow and a novelist with a background in journalism and literary and historical fiction, K.C. has raised the curtain on a world of beautiful, empowered, stylish women (and a few men) and placed them on everything from magnets and tee shirts to tote bags and greeting cards, with more to come as she expands.