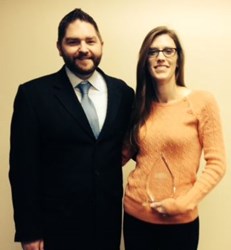 I think the special value of the Timothy Brosier Diamond Award is being able to express and share with everyone the extra miles our employees go every single day for clients, coworkers, and our communities.
Atlanta, Georgia (PRWEB) January 02, 2014
Foundation Financial Group employees from across America awarded Jamie Mohr the Timothy Brosier Diamond Award for outstanding service during the third quarter of 2013. The award is part of Foundation Financial Group's mission to recognize and reward employees for going above and beyond the call of duty.
"I feel incredibly honored to be chosen for this award," said Mohr. "I lost my father to cancer 10 years ago this month, so knowing that my peers and our executives realize how much they and FFG means to me is amazing. The timing is one of those awesome coincidences where the universe sends encouragement exactly when it means the most. Foundation Financial is like a second family to me."
Each quarter, Foundation Financial Group recognizes one employee whose positive attitude and exceptional service has raised the corporate standard for excellence. All Foundation Financial employees nominate colleagues throughout the quarter, and then the FFG executive team reviews the nominations to select the Timothy Brosier Diamond Award winner. TBDA winners receive a crystal trophy and a significant personal gift, which can range from a shopping spree to an addition on their home.
The winner is announced to the entire corporation via a conference call. FFG executives enlist the help of spouses and close friends to determine an appropriate personal gift and keep the win a secret. A Jamaican trip for two is Mohr's personal gift from Foundation Financial Group.
The trip was a fitting surprise for the woman who just got married and chose to not have a honeymoon. Mohr and her husband are excited to celebrate their marriage and her professional achievements with a vacation to a tropical paradise. Described as a "best friend that is always looking to make others successful" in a nomination from a coworker, Mohr believes that doing the job to her fullest ability requires maximizing her talents to further the success of her coworkers and the corporation.
The Timothy Brosier Diamond Award is a tribute to the legacy of Timothy Brosier, an FFG employee who worked in the company's Savannah, Georgia Regional Sales Center before passing away from cancer in 2010. Brosier was an FFG employee for only four months, but he touched many lives through his sense of humor and uncanny ability to inspire others. Brosier, a native of Beloit, Wisconsin, played football and baseball at Beloit Memorial High School and later served in both the U.S. Army and the National Guard.
"My FFG career began at the same office where Tim Brosier worked, and personal memories about Tim's work ethic and triumph were shared with me," continued Mohr. "That connection makes receiving this award an even greater honor. I think the special value of the Timothy Brosier Diamond Award is being able to express and share with everyone the extra miles our employees go every single day for clients, coworkers, and our communities."
The Timothy Brosier Diamond Award is one of several ways Foundation Financial Group expresses its commitment to its employees. The TBDA illustrates why the corporation has received national and local recognition for its workplace environment. FFG's support programs and human resource practices continue to evolve to enrich the employee experience.
About Foundation Financial Group
Foundation Financial Group is a multibillion dollar financial services corporation. FFG offers its customers Best in Class service through its Insurance, Retirement, and Mortgage Services. Named one of the fastest growing financial companies in the country by Inc. Magazine for the third year running, FFG has continued to grow its nationwide presence with over 100,000 new customers per year in 39 states. In addition to the value that Foundation Financial provides every customer, it is also dedicated to its communities and the people who live in them. Through a vast array of philanthropic endeavors, the company not only provides significant monetary donations but also fosters a workforce environment that encourages all team members to personally make a difference. Foundation Financial is committed to its strong focus on customer service and community investment as it continues to grow and compete with the largest financial institutions in the world.
Foundation Financial Group reviews all public relations inquiries. For additional information, interview and image requests, contact the Foundation Financial Group Public Relations Team.