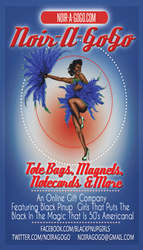 Angelique Noire, a sleek, beautiful, come-hither Black pinup girl, is renowned in the pinup modeling world.
New York, NY (PRWEB) January 07, 2014
Noir A-Go Go, the world's only gift store to offer Black Pinup Girl-themed gifts and accessories, rolls out a new blog, a highly sought after interview, an updated website, and new products in 2014.
The online company kicks it all off with a big get!
"We reached out to Angelique Noire and she graciously agreed to be interviewed for the January issue of our monthly blog," says a triumphant K.C. Washington, who is the owner of the three-year-old company.
Angelique Noire, a sleek, beautiful, come-hither Black pinup girl, is renowned in the pinup modeling world and has graced the pages of such magazines as "O" and "Cosmopolitan" and lent her effervescent beauty to everything from Will Smith videos to Ralph Lauren campaigns. On par with the delectable Dita Von Teese, Noire will most certainly up the profile of Noir A-Go Go's monthly blog "Sister's Under The Feathers: Today's Black Pinup Girls and Burlesque Dancers." The blog, which launched in September of last year, alternately features a Black pinup girl and a burlesque dancer, exploring their fashion, their profession, their dreams, and their world.
Launching 2014 with Angelique is a perfect way for Noir A-Go Go to lead into another high profile media event. The company's owner and the woman in charge of concept and design, will be among those interviewed for an intriguing piece to run on Ebony.com. The online arm of the magazine is doing an article on the resurgence of Black Pinup Girls and Burlesque dancers and interviewed Washington for the piece.
"I am beyond excited. I mean, it's Ebony Magazine!" says Washington. "We're hoping that in addition to the honor of being in the historic magazine we will also get the word out about our company and also help shine a light on the wonderful world of Black pinup girls."
Getting the word out about Black Pinup Girls in general and the Black Pinup Girl-themed compact mirrors, greeting cards, magnets, and tote bags that the gift company offers specifically, is one of the company's main goals for the new year. So along with showcasing Angelique Noire and being featured on Ebony.com, Noir A-Go Go has also revamped its website. Washington says the brighter, sexier and more user-friendly website, along with all the other things in the pipeline, is all part of the grand plan to conquer the world in 2014.
About Owner and Designer K.C. Washington
K.C. launched Noir A-Go Go in January 2011, with the idea that something was missing within the American pinup girl genre, namely women of color. So she decided to put what she calls a sepia spin on the beloved genre and Noir A-Go Go was born. Convinced that the world is more than familiar with the image of African Americans fighting for their rights during the Civil Rights era, she wants to show another image from that time---one of glamour and wit. A Mellon Fellow and a novelist with a background in journalism and literary and historical fiction, K.C. has raised the curtain on a world of beautiful, empowered, stylish women (and a few men) and placed them on everything from magnets and tee shirts to tote bags and greeting cards, with more to come as she expands.