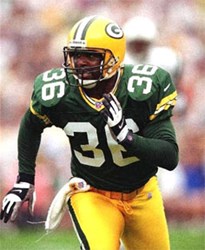 'LeRoy was the perfect person to write this book,' Haley said. 'He definitely bleeds green and gold.'
Pittsburgh, PA (PRWEB) December 26, 2013
Neil Haley, The Total Tutor and host of Author's Corner, interviewed LeRoy Butler to find out about Butler's new book, Packers Pride: Green Bay Greats Share Their Favorite Memories, and to discuss Butler's favorite memories of playing for the Green bay Packers.
Selected by the Packers in the second round of the 1990 draft, Butler played in 181 games and earned a Super Bowl ring after the 1996 season. He was selected as an All-Pro five times and was picked to play in the Pro Bowl four times (1993, 1996, 1997, and 1998). He was named to the NFL 1990s All-Decade Team by the Pro Football Hall of Fame and, in 2007, was inducted into the Green Bay Packers Hall of Fame.
During his 12 seasons with the Packers, Butler recorded 953 tackles, 38 interceptions, 553 return yards, 12 fumble recoveries, 3 defensive touchdowns and 20 1/2 sacks. He led or tied for the team lead in interceptions in five different seasons. He was the first defensive back in NFL history to gain entrance in the 20 Sack/20 Interception Club.
"LeRoy was the perfect person to write this book," Haley said. "He definitely bleeds green and gold."
When asked how much of an honor it was to be asked to write Packers Pride, LeRoy said, "Having the chance to tell my story alongside 60 other players' stories of what it meant to be a Green Bay Packer, it was a tremendous honor to be chosen."
In the interview, Butler discusses how he started the famous Lambeau Leap, the history of the team, the Packers lean years (70s, 80s and early 90s), and how important it was to him that he was part of a new winning tradition in Green Bay. He also talked about some of the players he interviewed for the book, including Sterling Sharpe and Brett Favre.
"[Sterling] was one of those muscle bound guys at wide receiver," Butler said. "Brett was the best teammate in the entire league. He got to know us each individually. Brett networked his way and got to know everybody. This is why teammates loved him."
Butler continued, "Any Packer fan would love Packer Pride. We are owned by the fans. The fans see us everyday. They show their stock certificate to others and take pictures of it. That is why we named it Packer Pride—it was spot on."
CEO of the Simply G Media Network GJ Reynolds said, "LeRoy is the kind of individual whom uses the platforms he has been given to raise people up. It is what Packer Pride represents."
You can purchase his book by clicking here. You are able to listen to the radio interview at http://www.beachlifestyle.com.