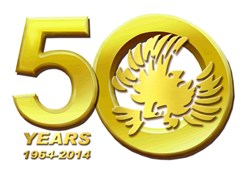 It went so fast!
Chicago, IL (PRWEB) January 09, 2014
2014 marks five decades of success for Bird-X, Inc. Find out how one company grew from a single-man operation to an industry leader in a changing marketplace – spreading values of environmentalism, safety, and the ethical treatment of animals worldwide.
The Early Years
During the early 1960s, "going green" was risky business – especially for a new business. In these years before the hippie movement took off, cars got around 12-15 miles per gallon and pest control was still entirely chemical-based. In January 1964, the same year that atomic-aged film the Last Man on Earth was released, Dick Seid founded Bird-X, Inc. in his hometown of Chicago, Illlinois – serving as the sole employee.
Ethics have always been at the heart of the company, and market demands for humane, green products have gratefully rewarded Bird-X for holding these values. Seldom does an entrepreneur see his dream so far surpass his expectations.
Five Decades of Growth
Bird-X is now currently sold in over 150 countries in every major industry including pest control, retail, manufacturing, transportation, and U.S. government facilities and federal agencies. The ability to remain flexible and change with market demands and industry standards has allowed Bird-X to stay at the top of the market. According to Dick, "We evolved the same way any other small company does; by trying always to diversify our product line, improve performance, increase our markets, serve our customers well, keep our prices competitive, make ourselves more internally efficient, and treat our employees with respect. I believe we've succeeded in all of these."
Many employees both past and present have been with the company for 15, 20, and over 30 years. This not only means Bird-X can work more efficiently, it means customers benefit from the knowledge of an experienced staff. Exceptional customer service is one of Bird-X's core values – after all, happy customers are to thank for the company's long life!
As Bird-X has grown exponentially, Dick has kept a strong focus on protecting human health, wildlife, and the environment by using efficient, intelligently designed products. Following in step with these core ethics and principles, Dick expanded the company line, and Bird-X currently sells hundreds of non-lethal, environmentally-responsible products, including a line of low-wattage heaters (sold under the company name Cozy Products) and efficient dental products (sold as Yates Motloid).
When asked if he had any words about Bird-X's Golden Anniversary, Dick simply said, "Yes. It went so fast."
Passing the Torch for Future Success
Dick has since passed his role at Bird-X into the hands of his son, Joe Seid, and hired Dennis Tilles to run the company as President, noting this as one of the most important defining moments for Bird-X. "We will continue to hold the values and ethics this company was founded on as we expand our business," stated Joe Seid. Dennis Tilles added, "We pride ourselves in offering environmentally friendly solutions for our customer's everyday problems. We offer world class products and service on products that help improve the environment which is very gratifying"
Read the full interview with Dick Seid here.
About Bird-X
Bird-X, Inc. is the leading brand of humane pest and bird control solutions worldwide, protecting human health, wildlife, and the environment since 1964. The Chicago-based company manufactures a complete line of unique pest control products with an unmatched focus on quality, efficacy, and customer service.